The 12 Elves of Christmas at Cabra Library!
Published on 9th December 2016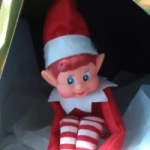 As Christmas approaches, Santa is sending an elf to Cabra Library. Our library elf will hide in the library during the day, and at night return to the north pole to report back to Santa on children's behaviour. Now our library elf is quite mischievous and won't be hiding in the same place each day, just so you know! Sunday is a rest day, don't forget.
As a little challenge, and a lot of fun, we would like children to try and find our library elf in their different hiding place on each of the 12 days of Christmas! Starting this Saturday (10th Dec). But to find our elf you will need to use the clue we will post each day. Otherwise you never will and won't be in with a chance to win our daily prize!
So children, find our elf and win a prize! On each of the 12 days of Christmas!
At 3pm each day we will post on Twitter and Facebook the clue for children as to where our elf may be hiding in the library. The clue will be posted in the library itself at 3.15pm. So parents need to get involved and retrieve the clues on Twitter and Facebook and pass it on to their children asap!.  If a child guesses correctly or finds the elf's hiding place they must contact the librarian to receive a small prize.
But a word of warning! Our library elf must not be touched as they will lose that Christmas magic and not be able to return to the north pole!
Clues will be posted on the following days:
Sat 10th, Mon 12th, Tue13th, Wed 14th, Thu 15th, Fri 16th, Sat 17th, Mon 19th, Tue 20th, Wed 21st, Thu 22nd, Fri 23rd.
3pm each day on Twitter and Facebook, 3.15pm in the library.
*** Links for parents to check: @dubcilib Twitter | Twitter hashtag #CabraElf | Dublin City Public Libraries on Facebook***
Entries will not be accepted via Facebook or Twitter. Children must attend the library to claim a prize.
Children, enjoy!
Below: Our library Elf surveying the library in advance in order to find the best hiding places!