2016, the Centenary Year - A Look Back
Published on 23rd December 2016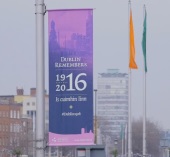 What a memorable year it has been! It being the centenary of the 1916 Rising, Dublin City Council has been proud to support and enable the Ireland 2016 state programme of formal commemorative events that took place in Dublin during this past year. The "Dublin Remembers 1916-2016: Is Cuimhin Linn programme" programme presented a series of lectures, talks by expert historians, exhibitions and conferences in Dublin libraries, City Hall, Dublin City Gallery The Hugh Lane and other venues in the city throughout the year.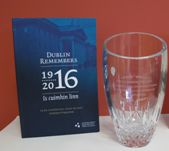 Within Dublin City Council the Commemorations Committee, the Lord Mayor of Dublin, Dublin City Public Libraries & Archive, the Dublin UNESCO City of Literature Office, Dublin City Gallery The Hugh Lane, the Arts Office, Richmond Barracks, Events, Planning, the Heritage Office, City Hall, Community and Social Development, Environment and Transport, Parks, Dublin Fire Brigade, all contributed to this extraordinary project. The programme received the highest accolade on the 24th November at the Chambers Ireland Excellence in Local Government Awards when the City Council won the "Commemorations and Centenaries 2016" award (image on left).
View the video shorts below of some of the highlight events of the year.
From Dublin City Public Libraries on Vimeo.
Below are just a few images of events throughout the year, click each to view larger versions.
Be sure to visit the Decade of Commemorations page during 2017 to be kept informed of events to come.