2017 Citywide Reading Campaign for Children Book Selected!
Published on 11th August 2016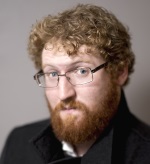 We are delighted to announce that 'Knights of the Borrowed Dark' by Dave Rudden, published by Puffin Books, is the chosen book for the 2017 Citywide Reading Campaign for Children.
This reading initiative is organised by Dublin City Council's Public Library Service as part of its UNESCO City of Literature programme with the aim of encouraging children to read for pleasure.
" src="/sites/all/modules/contrib/wysiwyg/plugins/break/images/spacer.gif" title="<--break-->">
There will be author visits to Dublin City Public libraries as well as city-centre based events to promote the campaign from January to March 2017. Full details about the campaign and events will be available in early January. Copies of KNIGHTS OF THE BORROWED DARK will be available in all Dublin City branch libraries.
"I am honoured and delighted that 'Knights of the Borrowed Dark' is Dublin UNESCO City of Literature's Citywide Read. This is the city that taught me how to write, and I owe so much to its vibrant, friendly and supportive literary community. There's a wild, swashbuckling charm to Dublin that very much inspired the strange and magical world of the Knights (though thankfully with less clockwork women and waistcoated misery-drinkers) and I can't wait to share it with Dublin's young readers and help them find stories of their own."  says Dave Rudden.

This is the sixth year of the reading initiative.  In previous years books chosen for the Citywide Reading Campaign included Alan Early's Arthur Quinn and the World Serpent, The Nightmare Club series featuring Annie Graves , The Powers by Kevin Stevens, Danger is Everywhere by David O'Doherty, and last year's book was The Book of Learning by E.R. Murray.
Reviews:
Knights of the Borrowed Dark by Dave Rudden review – a magical debut (Guardian, 7 May 2016)
Book Review – Knights Of The Borrowed Dark by Dave Rudden (Rick O'Shea, RTÉ 2fm and RTÉ Radio 1 Broadcaster)
See also Puffin Books website.