2017 International DUBLIN Literary Award Longlist
Published on 21st November 2016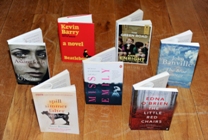 Seven Irish novels are among 147 titles that have been nominated by libraries worldwide for the International DUBLIN Literary Award.  Nominations include 43 novels in translation with works by 43 American, 23 British, 14 Canadian, 10 Australian, 5 New Zealander and 4 Dutch authors.
The 2017 Award was launched today, 21 November by Lord Mayor, Brendan Carr, Patron of the Award, who praised the International DUBLIN Literary Award for its promotion of excellence in world literature as well as for the opportunity to promote Irish writing internationally. "Like every year", he said, "readers will find new books and new authors through the Award, and they can pit themselves against the international panel of judges and pick their own favourite novel, before I announce the winner on 21 June next year".
The award promotes Dublin internationally as a literary destination, as Juan Pablo Villalobos (2016 judging panel) remarked "Dublin is a very literary city and for me as a Mexican writer I was very, very happy to be invited to be a judge because it's the city of Samuel Beckett, one of my literary heroes, and of James Joyce of course. Obviously world wide Dublin is known as a literary city and I think that this prize is becoming every year more and more important."
The Irish titles nominated for 2017 are: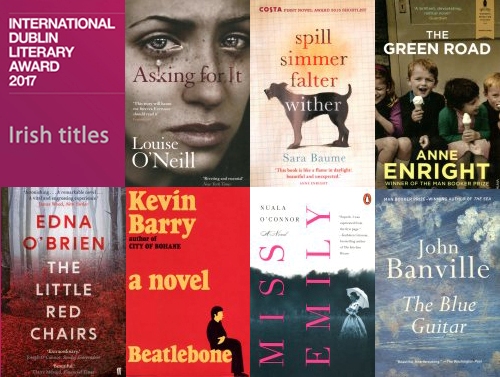 The International DUBLIN Literary Award (formerly known as the International IMPAC Dublin Literary Award) is managed by Dublin City Council's library service.  The 147 books eligible for the 2017 award were nominated by libraries in 109 cities and 40 countries worldwide, 43 are titles in translation, spanning 19 languages and 30 are first novels.
Other novels nominated for the 2017 Award include The Sellout by Paul Beatty, winner of the 2016 Man Booker Prize; A God in Ruins by Kate Atkinson, winner of the 2015 Costa Prize; The Sympathizer by Viet Thanh Nguyen, winner of the 2016 Pulitzer Prize for Fiction, Hope Farm by Peggy Frew, Salt Creek by Lucy Treloar and The Natural Way of Things by Charlotte Wood, finalists for the 2016 Miles Franklin Award.
Among the 43 translated books are novels originally published in Arabic, Bulgarian, Icelandic, Kannada, Macedonian, Montenegrin, Slovene and Turkish. Translated authors include Milan Kundera, Mia Couto and Isabel Allende. As in previous years, translated titles comprise almost one third of the longlist – 29%.
The book that received most nominations this year is Kate Atkinson's A God in Ruins, chosen by 9 libraries in Australia, Canada, England, Greece, New Zealand, Norway, Scotland and Spain.
Speaking of the global interest in the Award, the Margaret Hayes, City Librarian remarked "This great prize demonstrates Dublin's international support for contemporary writers and gives tangible expression to Dublin as A City of Words, an active member of the UNESCO Creative Cities Network, a UNESCO City of Literature. It also brings readers together in an unparalleled international book club connected through their local public libraries".
The 2017 Judging Panel comprises Chris Morash, Seamus Heaney Prof of Irish Writing and Vice Provost of Trinity College Dublin; Ellah Allfrey, OBE, critic, broadcaster and editor; Katy Derbyshire, translator, critic and essayist; Kapka Kassabova, poet, novelist and writer and Jaume Subirana, writer, critic and translator. The non-voting Chairperson is Eugene R. Sullivan.
All of the novels nominated for the Award are available for readers to borrow from Dublin's public libraries. The full list of 146 titles is available on www.dublinliteraryaward.ie.  The shortlist will be published on 11 April 2017 and the Lord Mayor will announce the winner on 21st June.