2022 Our Year At a Glance
Published on 30th January 2023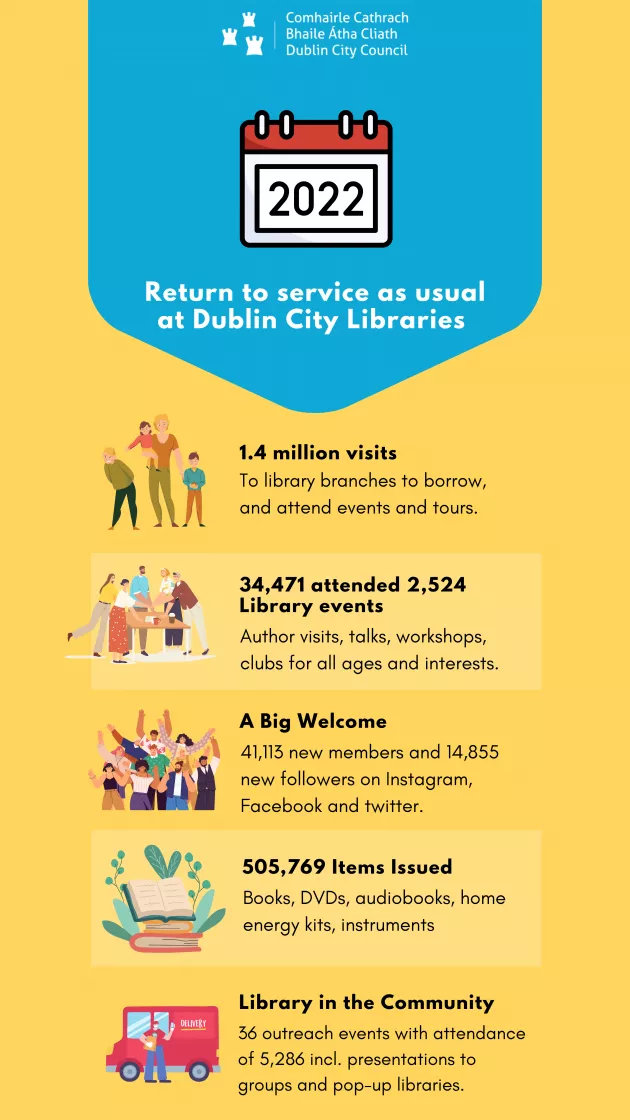 It was fantastic to return to a full library service in 2022 and to welcome everyone back to in person events, library tours and study and work spaces. 
A big thank-you to everyone who visited our libraries, attended our events, and showed support for public libraries. Thanks to all the people who connect with us on social media, read our newsletters or contact us on our helpdesk. 
We also really appreciate everyone who has submitted feedback. Thank-you for you taking the time to help us improve our service.  If you have any suggestions on how we can improve our library service, please email us on [email protected]
Here's our year at a glance: 
1.4 million visits
34,471 people attended 2,524 events
41,113 people joined up. A big welcome to all!
505,769 items borrowed
36 Library in the Community outreach events attended by 5,286
1.9 million virtual visits
891,273 online resources issued
1.2 million engagements on social media
2,616 queries answered on ask-a-librarian and by live chat
142 newsletters sent by ourselves, branch libraries, City of Literature and Festival of History
Download 2022 A Year At a Glance Infographic (PDF)
Read more about our favourite moments of 2022.