After the Rising: A Nightime Visit
Published on 30th March 2016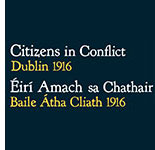 Citizens in Conflict #6. In the hugely successful movie Michael Collins, directed by Neil Jordan, Collin's man in the police, Ned Broy, gives him access to the secret files of Dublin Castle. Broy did indeed secure access for Collins to secret archives, but this was in Great Brunswick Street police station rather than Dublin Castle. Here's Broy's account from the Bureau of Military History Witness Statements:
'After the Rising, an enormous mass of Sinn Féin literature was captured by the military and police from meeting places and homes of Volunteers for weeks after the Rising was over. All this literature, maps, etc., were stored in the Brunswick St. Detective Office. When the Volunteers began to reorganise in 1917, I gradually returned to them samples or copies of all documents, maps and publications which had been captured, which were of some help to them in picking up the treads of their organisation again.'
'During the time I was meeting Michael Collins in Foley's, in the early stages, he often discussed with me the papers that I had been sending for the previous two years, which he referred to as their "correspondence course". In discussing these, it became obvious that he still did not understand the complete background of the detective organisation, and we decided that it would be necessary for him to go into the office and read the record books himself. From ten o'clock each night until six in the morning, it was usual for one man-mostly not of the political staff-to be on duty in the detective office, and that man had the cipher, in case telegrams arrived. It frequently happened that the detective, who was on weekend night duty, would have to go to the courts during the week, when he had cases. In that event, he would be relieved by someone for whatever night he required off duty, and I was frequently chosen for the single night's duty like that. So, meeting Mick on a night in April, 1919, I was able to tell him that I would be on duty the following night from 10pm to 6am. We arranged that, at twelve o'clock, he would ring up to make certain that it was I who was on duty, as there were frequently last minute changes. He was to use the name "Field", and my name was to be "Long".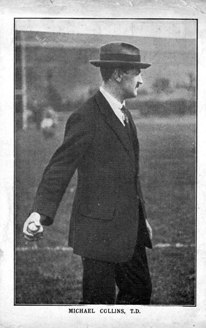 'The new building at Pearse St (Sic) had, of course, a brand-new set of keys, and there was a master-key, in case any of the other keys got lost. I made myself another master key, by filing one of the ordinary keys. The key would be necessary to open the secret room. In due course, about 12.15 a.m., Mick Collins arrived, accompanied by Sean Nunan. I had told him, whoever came with him, to be armed and also to have sticks, because one would never know what might go wrong. I duly let them in, showed them the back way and the yard door to Townsend St. in case anything happened, and gave them, the general lie of the land. No sooner had I done so than s stone came through the window. I was just wondering again if the British fate was going to take a hand. I looked at them, they looked at me. I told them to go into a dark passage and wait near the back door, in the shadow. On looking out on Great Brunswick St. I saw a British soldier in custody of a policeman. I opened the door and inquired of the constable what was wrong. He said: "This fellow is after throwing a stone in through the window." He took the soldier to the police station next door. I went back and told Mick what happened.
'Michael stayed from about 12.15 till about 5 a.m. There were many reasons for his visit. He wanted to know the background for what he called the correspondence they had received from me, the exact degree of British knowledge as regards the Volunteers, Sinn Féin and other national organisations. Michael wanted to ascertain who, of their people, were known and, still more important, were not known. He wanted to try and gauge the mentality behind the records, and then to use the police secret organisation as a model, with suitable improvements and modifications, for Volunteer requirements. It was obvious that, sooner or later, these records would be taken to the castle because at nearly every hour of the day a ring would come to the office asking for particulars, in writing, of Suspect So-and-So. As a matter of fact, not very long afterwards, the books were taken to the Castle.
'Amongst the papers captured were copies of all telephone messages received by G. Division during the week of the Rising in 1916. These telephone messages were bound in book form for the week, as was the usual practice in the office. Some of the messages were from loyal people, giving information as to where the Irish Volunteers had occupied positions in small numbers or where they had posted snipers on roofs or windows, but many exactly similar ones were received from persons who posed, then and afterwards, as sympathisers of the Volunteers. Collins had many a cynical laugh, after reading these, when listening to protestations of patriotism by some of the senders of the messages. Michael had taken this volume away with him the night he visited the secret archives in 1919 at No. 1 Great Brunswick St. Joe Reilly had had custody of this volume for some time, and twice the Auxiliaries had raided tow of his lodging places and accidentally failed on each occasion to find the volume. Joe used to say to me: "That damned old daybook of yours was twice nearly getting me shot."
About
This article is one in a series created by Dr Brian Hanley, historian-in-residence at Dublin City Library & Archive, to coincide with the exhibition 'Citizens in Conflict: Dublin 1916 / Éirí Amach sa Chathair: Baile Átha Cliath 1916', running at Dublin City Library & Archive from January to June 2016.
Dublin Remembers 1916 Programme of Events | Hashtag: #Dublin1916