Authentic Irish Voices in Novels for Teens
Published on 7th August 2011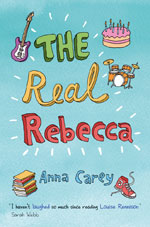 In my earlier blog posts I've mentioned the amazing talent Ireland is producing in illustrators and picturebook creators - but recently I've also noticed that Irish authors are writing very interesting books for older children and teenagers. In fact, you could do worse than have a read of them yourself - even if it's a long, long time since you were a teenager!
'The Real Rebecca' by first time author Anna Carey, is a light-hearted tale of a real Dublin schoolgirl, Rebecca, whose otherwise ordinary life is made miserable when her mother (more mortifying than most, it seems) writes a book about a cringe-inducing teenager and claims that Rebecca is the inspiration! I enjoyed every minute of Rebecca's predicament, then doubly enjoyed giving it to my daughter to read, to prove that I'm not the most embarrassing mother in creation - not be a long shot!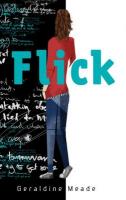 'Flick' by another first time author, Geraldine Meade, is for an older age group - probably fifteen upwards - and is a more difficult 'coming of age' story involving date rape, attempted suicide and the challenges facing a teenage girl who will go to almost any lengths to avoid admitting to her friends and family, or even to herself, that she is gay. 'Flick' is narrated by sixteen year old Felicity and reads like a reasonably realistic portrayal of life for older teenagers in commuter belt Ireland - though I admit I'm not in the right age group to be the best judge of that!
'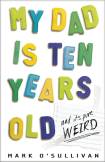 My Dad is Ten Years Old (and it's pure weird!)' by Mark O'Sullivan, is probably my favourite of these three excellent books. When the father of a young family suffers a brain injury and returns from hospital with the mind and interests of a ten year old, his wife and children have to make major adjustments in their lives and relationships. O'Sullivan has form as an author, his previous novels, including the award-winning 'White Lies', have been favourably reviewed and loved by readers. After an absence of over a decade, during which he has battled with the debilitating illness ME, Mark O'Sullivan returns with this original and beautifully written story which would make an excellent Book Club choice for any age group. 'My Dad is Ten Years Old' is a heart-breaking, hilarious, up-lifting and sometimes horrifying read and I can't recommend it highly enough. It will make you look at your own family in a new light.