Author Spotlight #1 - Michael Morpurgo
Published on 2nd November 2015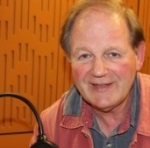 We decided to kick off our new series of regular blog posts on individual authors by putting the spotlight on that most prolific and popular of children's authors, Michael Morpurgo. A decision heavily influenced I might add by Michael's presence in Ireland right now to attend a big family event in the Concert Hall in Cork this evening.  Michael could be heard on RTE radio's 'Today with Sean O'Rourke' show yesterday morning when he was interviewed by Claire Byrne. If you missed it, you can listen to the interview online (c.16 minutes in length).
Right: Michael Morpurgo (Source)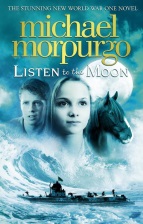 Michael is also in the news for another reason right now, his book 'Listen to the Moon' (Category: Older Fiction) having just been shortlisted The Children's Book Award (UK) 2016. You can read here our post on the shortlist announcement. Michael has already won this award three times, the Award's uniqueness being that the winner (and shortlist) is selected by younger readers. This surely is testament, if it were needed, to the popularity of Michael Morpurgo amongst younger readers.
Michael's latest book 'An Eagle in the Snow', (Category: Older Fiction) just published, is based on a supposedly true account of a young soldier's chance encounter with Adolf Hitler during World War One. Story has it that during a battle towards the end of the war, Henry Tandey, who went on to become the most decorated British soldier of WW1, told this young German soldier who wandered into his line of fire to go home, he having seen enough killing at that point. The young German soldier supposedly being none other than Adolf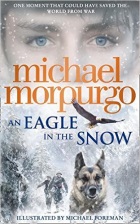 Hitler! Hitler apparently recounted in 1935 an episode where a British soldier during WW1 did not take the opportunity to shoot him but instead let him. Thus the story grew, as it did so the line between fact and fiction became rather blurred, to the point today where a degree of uncertainty exists as to its accuracy. In this novel Michael joins together some of the dots to deliver a great fictionalised account of the supposed event. As Michael says, his book is suitable for those aged '8 to 98'. 
Michael has authored over 100 books, many of which tackle social issues, one such being 'Out of the Ashes' (2001) (Category: Older Fiction), which is about the foot and mouth crisis. This book was adapted for television, as was 'My Friend Walter' (1988) (Category: Older Fiction), a book with a rather different, ghostly, theme.  Some have also been turned into film, including 'Why the Whales Came' (1985) (Category: Older Fiction), which stars Helen Mirren; and 'King of the Cloud Forests' (1987) (Category: Older Fiction), a short (30 minute) film which won France's Cercle D'Or Prix Sorciere. And who of course hasn't heard of 'War Horse'?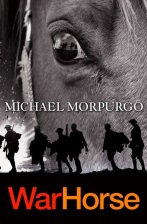 'War Horse' (1982) (Category: Older Fiction), like many of Michael's books has a war theme, and had huge success as both a book and a play before ever appearing as the 2011 box-office success directed by Steven Spielberg. Another with a war theme is 'King of the Cloud Forests', mentioned earlier, where Ashley and Uncle Sung embark on a perilous journey across the Himalayas as they flee the Japanese invasion of China in WW2.
Award winning titles, there are many. To name but a few: 'The Wreck of the Zanzibar' (1995) (Category: Older Fiction), telling the story of 14-year-old Laura on one of the Scilly Isles, won the 1995 Whitbread Children's Book Award; 'The Butterfly Lion' (1996) (Category: Younger Fiction), telling the story of a young boy who rescues an orphaned lion club from the African bush, won the 1996 Nestlé Smarties Book Prize (Gold Award);  and 'Private Peaceful' (Category: Older Fiction), the story of a soldier who is looking back on his life from the trenches of World War I,  winning the 2005 Blue Peter Book of the Year Award amongst others. 'Listen to the Moon', mentioned earlier, was also shortlisted for the 2014 Costa Children's Book Award.
Michael Morpurgo was born in Hertfordshire (UK) in 1943. He spent a brief period in the army, after which he took up teaching and writing. He gave up teaching after ten years in order to set up 'Farms for City Children' with his wife. He and his wife were awarded an MBE for services to youth in 1999 for this work with inner city children. In 2003 he became the third Children's Laureate, and he was awarded an OBE in 2006 for services to literature.
Visit Michael Morpurgo's website.
Spotlight by: Eddie Byrne