Beach reads for summer 2022
Published on 28th July 2022
Buying a new book at the airport on your way to a beach holiday? Maybe not this year. 
The library is your next best port of call if you can't make it to the beach. Organise a trip to the park for a lazy afternoon on a picnic blanket.
From romance to short story collections to dip in and out of, and un-put-down-able thrillers and fantasy fiction. We've got you covered this summer however you chose to spend it. Here's some suggested Summer Reads on our catalogue.
As well as fiction there's some intriguing non-fiction and a mix of memoirs and celebrity biographies.  Reserve online or visit your local branch today. These sweet reads and thrilling page-turners deserve a place on your summer #TBR. 
For more reading inspiration, listen to our colleague Jackie Lynam talking summer reads on RTÉ Drivetime yesterday. 
Packing Light or Reading on the Go
Opting for hand luggage doesn't mean you have to sacrifice your holiday reading.  You'll have plenty of choice once you've downloaded BorrowBox to your phone or tablet.  You'll find a super selection of summer reads for all ages. And of course all for free - leaving you with more money for your next 99!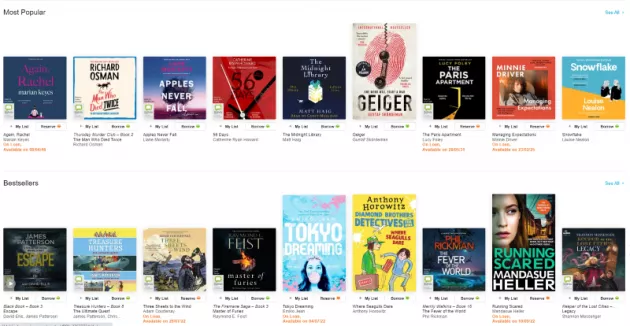 Scroll down the page to find Sinéad and Rick's Must Reads 2022. We also have trending titles and non-fiction, most popular reads and new releases. Have a glance; get inspired.
So what's everyone else listening to and reading on their hols? Here's what's popular on BorrowBox: 
Top 10 audiobooks 
Again, Rachel  by  Marian Keyes
Apples Never Fall  by  Liane Moriarty
Man Who Died Twice by  Richard Osman
Paris Apartment by  Lucy Foley
Nora  by  Nuala O'Connor
Thursday Murder Club by  Richard Osman
Where the Crawdads Sing  by Delia Owens
56 Days  by Catherine Ryan Howard
Magician by  Colm Tóibín
Midnight Library by  Matt Haig
Top 10 eBooks
Thursday Murder Club by  Richard Osman
Beautiful World, Where Are You  by Sally Rooney
Thursday Murder Club by  Richard Osman
Beautiful World, Where Are You  by Sally Rooney
Art of Losing by  Alice Zeniter
Ladies' Midnight Swimming Club by  Faith Hogan
Geiger  by Gustaf Skördeman
Klara and the Sun by Kazuo Ishiguro
Small Things Like These by  Claire Keegan
Nora by  Nuala O'Connor
Don't have time to wait for the latest must read to become available? Then the Borrow Now No Queues selection is perfect for you.   You'll find them featured at the top of your BorrowBox and recommended on our Twitter: books you love without the wait!
Prefer print?
You can borrow and reserve any of these books in hard copy too on our new online catalogue. 
Check out our top 10 adult fiction and non-fiction so far this year. 
Some more beach book ideas for 2022.
Most popular reads this summer in Dublin City Libraries blog. 
Happy reading!