Best haunted house novels made into films
Published on 30th October 2020
'For the sake of your sanity, pray it isn't true!' ('Legend of Hell House' film poster tagline) Working from home may have its benefits – no commute, 'walking to work' in the local park, actual tea and lunch breaks away from the desk, heating and ventilation to order.
But in the darker dingier days ahead there is a chance that - creaks in empty rooms beyond our W.F.H. set up, odd reflections on the wall, agitated family pets - ordinary things usually dismissed, may unsettle us in our own homes.
The haunted house is a familiar residence in film and television. 'The Cat and the Canary' (1927) a film about a family stalked by a mysterious figure in a mansion, was likely the originator of the lineage. Certainly most long running popular television series have thrown their sage in the corner, from the Three Stooges to The Sooty Show, and dealt with the immaterial in a material world.
Common in haunted house books and films is the impressive house with aristocratic name, wealthy owner, and unsavoury history, possessed by spirits, demons, or ghosts. More recently, suburban houses and apartments built on burial grounds act as a conduit for paranormal activity. Houses are usually perceived to be a place of shelter and security - the haunted house is contrary.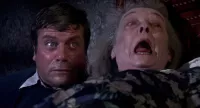 Apart from being a physical structure the haunted house, may symbolise the psyche, and portray, mirror,or magnify the interior life of the inhabitants. Your darkest desires and fears -  'It knows what scares you'  (promotional tagline for film Poltergeist) - literally consume you. The space where we can truly be our unguarded selves actually torments us, our inner desires and phobias tears down our mental architecture and annihilates us. People get haunted not houses, particularly it seems those who contravene conservative societal norms – the single parent, the childless couple, and the work from home author.
Haunted house books and films always contain a collective unit (family or research team) connected by blood or goal, isolated physically or just socially insular. They experience a series of escalating unexplainable events, and are terrorised by supernatural forces. The unit's roles and relationships disintegrate, there's decline in the interior life of the protagonists. The unit struggles to stay unified, collective aspirations are thwarted, and eventually the unit/house annihilated.
The parental protagonist(s) at the centre of the story typically struggle to manage responsibilities, with an underlying anxiety about their role as provider. A failure to conform to existing norms brings disaster – work from home Daddy has a personality change, there's an inexplicable illness, encroaching madness, and considered familicide. It's possibly worsened if he's an aspiring writer.
Due to Level 5 restrictions libraries are only operating online and it is not possible to reserve items. However here are some selected haunted house offerings available through Dublin City Libraries as books/films which you can investigate in the future:
THE TURN OF THE SCREW
Novella Henry James (1898); Film 'The Innocents' Jack Clayton (1961).
Cash strapped governess takes on two orphaned children Miles and Flora in Bly an old and mysterious 'big house' somewhere in the Essex countryside. But the little darlings seem to be quite disturbed and in cahoots with the malevolent manifestation of their previous governess and her beau (now deceased). Hints of inappropriate sessions that may have/not involved her tormenters and the charges, unravels the governess who proves to be as unworldly as the supernatural forces terrorizing her. Film version is masterful in just giving fleeting glimpses of the metaphysical, which may just be an extension of the governesses addled mind. Mary Poppins this aint.
THE HAUNTING OF HILL HOUSE
Novel Shirley Jackson (1959); Film 'The Haunting' Robert Wise (1963).
Layered haunted house yarn which presaged the golden age of 1970s haunted house novels. Insular Eleanor Vance, has begrudgingly served as her mother's primary care giver until her recent death. She answers the invitation of supernatural investigator Dr John Montague, to join him and an opportunistic young heir Luke Sanderson, and bohemian artist Theodora in seeking out evidence of the supernatural. The haunted house is sited in an unspecified rural location but is suitably impressive in its architecture and odd goings on. They witness an array of legit spooky stuff – pounding in the hallways, giggling children, spectral sights. But as the evidence mounts Eleanor seems particularly affected. Exploration of the relationship between the events in the house and the character's psyches will leave you guessing in this cryptic conundrum of a haunted house story. [Warning - you may need the remote control at hand for the film version as the paranormal pounding ramps up as the screaming starts].
HELL HOUSE
Novel Richard Matheson (1971); Film 'The Legend of Hell House' John Hough (1973).
A paranormal research unit of strangers lead by physicist Dr. Lionel Barrett are pressed into action in Belasco House in search of evidence of the afterlife on the behest of ailing millionaire Mr. Deutsch. The apparent weak spot of each researcher becomes their undoing in this tale of science V supernatural with added 'Reversor' machine. Their stay in Belasco a week before Christmas encompasses thrills, spills and a legless millionaire giant with sadomasochistic tendencies. This is the gonzo 1970s haunted house film with Malcom McDowell you have been waiting for.
BURNT OFFERINGS
Novel Robert Marasco (1973); Film Dan Curtis (1976).
The financially faltering Rolfe family with aspirations above their station, pile into a dilapidated old neo-classical mansion for the summer. Renting from the wealthy Allardyce family on the eastern shore of Long Island New York at a knock down bargain price. The sacrifices they avoid making to climb above their station for a season are paid back with interest. Bedevilled by unusual experiences and personality changes, they learn there's a place for everything, everything in its place - including them. This is the 1970's haunted house blue print, influential on many others such as The Shining. The film stars Ollie Reed, Karen Black and Bette Davis, in an eye popping utterly bonkers supernatural gurn off to end all.
THE AMITYVILLE HORROR
Novel Jay Anson (1977); Film Stuart Rosenberg (1979).
Purported story of the young Lutz family and their endeavour to start a new life. The Lutz's buy a Dutch Colonial mansion on south shore Long Island New York at a bargain price. December 1975 George and Kathy Lutz and their 3 children move into the house. Knowing the old homestead's horrific history - previous owners the DeFeos were slaughtered by the eldest son - they are eager to get the house blessed. But the priest obliging witnesses a cacophony of curdling noises and weirdy other worldly wonders. The priest succumbs to unexplained illness, blistered hands, and a disembodied 'GET OUT' warning. Wheezing choice - he legs it, leaving the unsuspecting family unit to deal with the supernatural terrors within. Throw away trivia – initially sceptical James Brolin took on the film role after spooking himself with a pair of ghostly under crackers whilst reading the book.
THE WOMAN IN BLACK
Novel Susan Hill (1983); Films: ITV network screenplay Nigel Kneale (1989); Hammer (2012).
Written in the gothic tradition, this is an eerie tale of foreboding and impending doom. Rising legal whipper snapper Arthur Kipps go gets in a dreary Northumbrian mansion – Eel March House - on an isolated tidal causeway. He finds the Drablow house and contents he is there to settle a little more insubstantial than he wagered. The mysterious spectre that haunts the house and surrounds seems to be a malevolent force for vengeance. Dark shadows reveal darker secrets. Screaming equines - this is a genuinely creepy and unnerving tale. The Hammer version with Harry Potter is worth a look but even better is the 1989 Nigel Kneale penned film adaptation – prepare if you dare.
So before you go switch on all the lights I'd recommend you watch: 'The Laurel-Hardy Murder Case' (1930) by means of an antidote. Throw away trivia – it was the first film where Ollie looks at Stan and says: 'Here's another nice mess you've gotten me into'.
Submitted by Sleeve Notes Drumcondra Library October 2020.