Published on 16th June 2020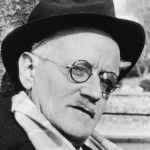 "Bloomsday," is thought to be the day that he had his first date with his future wife, Nora Barnacle and is named after one of the protagonists from Ulysses, Leopold Bloom. By the time Nora Barnacle and Joyce finally married in 1931, they had lived together for 27 years, traveled the continent and had two children.
The couple first met in Dublin in 1904 when Joyce struck up a conversation with her near the hotel where Nora worked as a chambermaid. She initially mistook him for a Swedish sailor because of his blue eyes and the yachting cap he wore that day, and he charmed her so much that they set a date for June 14 but she didn't show. He then wrote her a letter, saying, "I looked for a long time at a head of reddish-brown hair and decided it was not yours. I went home quite dejected. I would like to make an appointment but it might not suit you. I hope you will be kind enough to make one with me—if you have not forgotten me!". This led to their first date, which supposedly took place on June 16, 1904. One of Joyce's signed erotic letters to Nora fetched a record £240,800 ($446,422) at a London auction in 2004.
Movie Theatre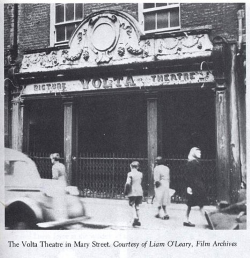 There are about 400 movie theaters in Ireland today, but they trace their history back to 1909, when Joyce helped open the Volta Cinematograph, which is considered "the first full-time, continuous, dedicated cinema" in Ireland. More a money-making scheme than a product of a love of cinema, Joyce first got the idea when he was having trouble getting Dubliners published and noticed the abundance of cinemas while living in Trieste. When his sister, Eva, told him Ireland didn't have any movie theaters, Joyce joined up with four Italian investors (he'd get 10 percent of the profits) to open up the Volta on Dublin's Mary Street. The venture fizzled as quickly as Joyce's involvement. After not attracting audiences due to mostly showing only Italian and European movies unpopular with everyday Dubliners, Joyce cut his losses and pulled out of the venture after only seven months. The cinema itself didn't close until 1919, during the time Joyce was hard at work on Ulysses. (It reopened with a different name in 1921 and didn't fully close until 1948.)
Ernest Hemingway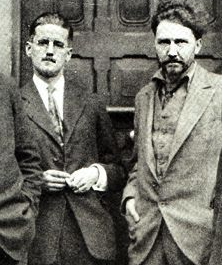 Ernest Hemingway met Joyce at Shakespeare and Company, and was later a frequent companion among the bars of Paris with writers like Wyndham Lewis and Valery Larbaud. Hemingway recalled the Irish writer would start to get into drunken fights and leave Hemingway to deal with the consequences. "Once, in one of those casual conversations you have when you're drinking," Hemingway said, "Joyce said to me he was afraid his writing was too suburban and that maybe he should get around a bit and see the world. He was afraid of some things, lightning and things, but a wonderful man. He was under great discipline—his wife, his work and his bad eyes. His wife was there and she said, yes, his work was too suburban. 'Jim could do with a spot of that lion hunting.' We would go out to drink and Joyce would fall into a fight. He couldn't even see the man so he'd say, 'Deal with him, Hemingway! Deal with him!'"
Shakespeare and Company
Joyce began writing Ulysses in 1914, and by 1918 he had begun serializing the novel in the American magazine Little Review with the help of poet Ezra Pound.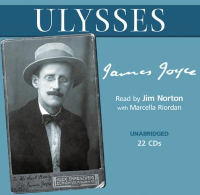 But by 1921, Little Review was in financial trouble. The published version of Episode 13 of Ulysses, "Nausicaa," resulted in a costly obscenity lawsuit against its publishers, Margaret Anderson and Jane Heap, and the book was banned in the United States. Joyce appealed to different publishers for help including Leonard and Virginia Woolf's Hogarth Press but none agreed to take on a project with such legal implications (and in Virginia Woolf's case, length), no matter how supposedly groundbreaking it was. Joyce, then based in Paris, made friends with Sylvia Beach, whose bookstore, Shakespeare and Company, was a gathering hub for the post-war expatriate creative community. In her autobiography, Beach wrote: All hope of publication in the English-speaking countries, at least for a long time to come, was gone. And here in my little bookshop sat James Joyce, sighing deeply.
It occurred to me that something might be done, and I asked : "Would you let Shakespeare and Company have the honour of bringing out your Ulysses?"
He accepted my offer immediately and joyfully. I thought it rash of him to entrust his great Ulysses to such a funny little publisher. But he seemed delighted, and so was I. Undeterred by lack of capital, experience, and all the other requisites of a publisher, I went right ahead with Ulysses.
Access eBooks/eAudiobooks on your phone, tablet or reader. Once you have installed the app, search for Dublin in the 'Library' field provided and then sign in using your library membership card number and PIN. Watch our how to video on Borrowbox. Members of other library authorities will need to log in using a different link.