Book Launch: Dublin Civic Portrait Collection
Published on 13th June 2016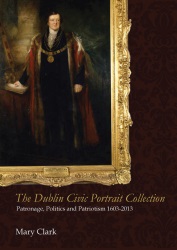 On Tuesday 14 June, at 7.00pm, 'The Dublin Civic Portrait Collection: patronage, politics and patriotism, 1603–2013' by Dublin City Archivist Dr. Mary Clark will be launched in the Oak Room of Dublin's Mansion House. Lord Mayor of Dublin Críona Ní Dhálaigh will officially launch the book and Professor Christine Casey, Department of the History of Art & Architecture, Trinity College Dublin will be a guest speaker.
Please join us to celebrate the publication of this unique and momentous book. Booking required in order to attend, please email [email protected].
Publication details / how to purchase. | In the Catalogue |  View large image of book cover.
About the Book
Beginning in the early 17th century and continuing to the present day, the city of Dublin has built up a portrait collection that is unique on the island of Ireland in terms of range and diversity, and is brilliantly expressive of the political aspirations and realities that have informed its creation. The collection contains sixty-six works in oil-on-canvas and eight statues in bronze and marble. These can be placed in three principal categories: royal personages; lord lieutenants of Ireland; and lord mayors and aldermen of Dublin. It includes works by Irish artists Thomas Hickey, Hugh Douglas Hamilton, Martin Cregan, Stephen Catterson Smith, Dermod O'Brien, Robert Ballagh and Carey Clarke and by leading English portraitists including Sir Joshua Reynolds, George Romney, Sir William Beechey and Sir Thomas Lawrence.
This book contains a catalogue of the entire collection with an introduction placing it within the broader context of civic imagery and regalia, giving due regard to ceremony, heraldry, dress and accoutrements of office. The Dublin collection is placed within its historical context to show how developments in Dublin and in Ireland as a whole influenced its formation. This lavishly illustrated book illuminates the complex relationship between politics, pageantry, art and history in the Irish capital over a sustained period of 400 years.
It is published by Four Courts Press and supported by Dublin City Council.