Published on 12th May 2015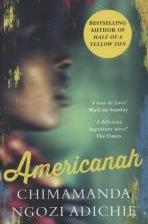 I picked up a copy of Americanah by Chimamanda Ngozi Adichie after I saw it on the shortlist for the Baileys Women's Prize for Fiction 2014. I had been lacking cultural diversity in my literary diet, and thought after reading the premise of the novel that it might provide the perfect dose for my deficiency. 
The novel takes place in Lagos, Nigeria, and as the author herself is also Nigerian, the book holds a certain familiarity that is unmistakable when a writer is crafting a tale about their own place of origin. Before opening its pages, I had an embarrassing, chasmic lack of knowledge about anything Nigerian. After 477 pages however, the novel has given me 100x the information that I knew before regarding Nigeria and its people, as well as a keen interest in learning more. 
And now, onto the story itself. A quick summary...
Americanah tells the tale of two star-crossed lovers from Lagos: they meet and fall in love in secondary school, but are torn apart by military, political, and economic troubles in their home country. Their time at university is interrupted by professor strikes and other woes due to the military dictatorship, and every other day it seems that another one of their acquaintances flees Nigeria in search of a fair wage and safety in another place. Eventually they are each forced to leave as well, but while Ifemelu heads to America, Obinze is unable to join her and ends up in London.
Unlike the majority of literary lovers scorned by circumstance, they are given a second chance at a future together when they both end up back in Lagos years later. Unfortunately, a whole new set of obstacles has been placed in their way. I'm not a spoiler, so you'll have to pick up a copy of the novel yourself if you want to find out how things turn out for the couple.
I have to say that I immensely enjoyed the book. It is a longer one, and does take a little while to get through. However, you won't ever be bored. The book flip flops between Obinze and Ifemelu's tales, so you can see both ends of the relationship. Ifemelu's portions are also intermittently punctuated by excerpts from her popular blog about race in America. As I'm from the United States myself, I found these blog posts to be quite interesting and eye-opening. They caused me to stop and pause repeatedly to re-examine my own thoughts and beliefs about the treatment of race in my home country.
Whether you agree with Ifemelu's and Chimamanda's assessment of race and discrimination or not, you can't argue that she does make you stop and think. Although this is a novel about true love and family and hardship, I would say that it is primarily about cultural differences and race and the difficulties that arise because of these, even in these 'modern' and 'colour-blind' times.   
Chimamanda finds an ideal balance between the heavier issues of her novel and the romance. There's even a surprising dose of humour found within the pages as well, which keeps the novel from sinking into a sort of despair. The central characters are relatable and dynamic, and everything else that main characters should be. They have a heavy load to carry, but they bear it well. A strong cast of secondary figures supports them as well. In the end, I felt as if I could step off the plane in Nigeria and expect one of them to be waiting for me at the airport, ready to drive me through the chaotic streets of Lagos and back to their home where I could enjoy a hot meal of jollof rice and fried plantains. 
If nothing else, the novel provides an entertaining love story, and the tale of two migrants that have to struggle with leaving their homes, adapting to the new unfamiliar cultures, and then returning to their place of origin and reacclimating, because of course it has changed in the decade that they were away. However, if you're like me, it will do much more than that. It will make you turn inward, look twice at your own perspectives, and question everything you thought before about race and the treatment of it. No matter where you're from, this subject is relevant and important. 
I would most definitely recommend this novel. I promise that it will stick with you for long after you put it down. It may also give you a craving to try some Nigerian recipes and travel the world, forewarning. I plan on checking out some of the other novels by Chimamanda Ngozi Adichie as well, and if you want to do the same, they can be found in the library catalogue. 
If you've read Americanah, feel free to comment below about whether you agree or not with my review!