Borrow and return books and more with our Library App!
Published on 7th June 2022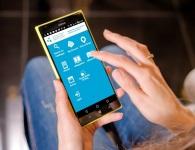 Did you know that you can borrow and return books and other items using the self service feature on the Dublin City Libraries app? Launched over five years ago, our library app is a great way of accessing library services and your library account; finding your nearest library; checking the library catalogue.
Download the app from either the Apple or Google Play store: login to your library account and use the self service feature to borrow items as you go, and return loans when in a designated check-in zone.
Please note your mobile device needs to be NFC-enabled (See Settings > Connections on your phone). NFC (Near Field Communication) is a method of wireless data transfer that allows smartphones, laptops, tablets, and other devices to share data when in close proximity. NFC technology powers contactless payments via mobile wallets like Apple Pay, Android Pay, as well as contactless cards.
No more queueing! Make use of our self-service kiosks in the branches too, you'd be amazed how quick and easy they are to use. Ask a friendly member of staff to give you a quick demonstration.
Watch our video about the Self Service App from Dublin City Libraries below.
To view this, you must update your