On Borrowbox: If Walls Could Talk by Lucy Worsley
Published on 27th March 2020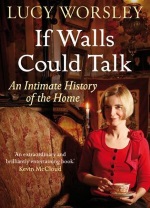 Liz Buckley here reviews If Walls Could Talk; An Intimate History of the Home by Lucy Worsley, available as an eBook from Borrowbox. If on loan, you can reserve a copy.
I read this book at the start of the Corona virus pandemic in Ireland. I was really fascinated to learn of the dire consequences that ignorance, myth and misinformation had on world health down through the ages. Poor sanitation in the home and at local level was behind several pandemics throughout history and the spread of germs from person to person or animal to person is an ongoing battle and often misunderstood.
If Walls Could Talk; An Intimate History of the Home by Lucy Worsley reflects how the basic practices of hygiene good or bad have always meant life or death for the individual. The saddest place and most rife of germs and disease was at local level and the author's portrayal of the birthing bed proves the risky business of childbirth and accounts for the outrageous death rate of mother and child over time.
The author demonstrates the dark subject of infection and disease very well throughout her book. Worsley is an outstanding historian with an eye for detail and a gifted storyteller who can draw the reader in. The book is colourful with many excellent illustrations and her wry sense of humour make what is essentially a history lesson, uniquely entertaining.
Some may think the subject matter "heavy duty" but the book is successful in that it manages to prevail as a light-hearted and humorous look at the history of the home, comparing Tudor, Georgian, Victorian, and homes of the present day. She captivates life from both ends of the spectrum describing the homes of the rich and the lives of the people who worked in them. She explores societal changes in behaviour through the prism view of a functioning household and she often chooses the Big House to begin with, and then introduces the reader to the lives of the servants.
The history of the bedroom and bathroom or privy is explored with hilarious revelations as lots of people pass through for all kind of reasons other than sleep, sex or simply to do one's business and compares public forwardness to today's great and urgent call for privacy.  Toilets and toilet roll, nickers and drawers, house fashions and  utensils are examined to give the reader a real feel of the era and you can share some of the bygone practices with younger members of your family who will be astounded and unbelieving. I thoroughly enjoyed this book and if you have seen the BBC series of the same title you will hear the quirky voice of the author as you read and appreciate her wry yet factual  account of how we lived in times gone by.