Bridges of Dublin - New Website!
Published on 8th October 2013
Today sees the launch of a wonderful new website on the bridges spanning the River Liffey from Lucan to the sea. Bridges of Dublin is a Dublin City Council project and was developed as a comprehensive digital archive of information about the bridges which span the Liffey in Dublin county. The project was led by the specialist web unit within Culture, Recreation and Amenity assisted by the Roads and Traffic Department.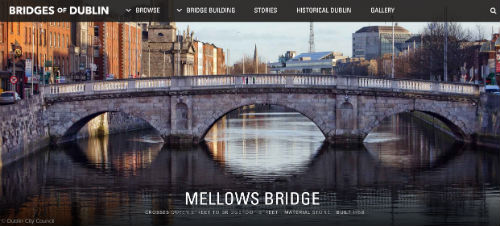 23 bridges are features on the website, from Lucan in the west to East-Link in the Docklands. You can view bridges by use or by location, and there is in depth information on each bridge's history, name, design and engineering, as well as a wealth of historical photos. The site also has a comprehensive bridge building section covering types, materials, famous Irish and World bridges, designers, disasters and proposed bridges. And so much more!