Brilliant Mid-term Reads from Book Festival Authors
Published on 30th October 2012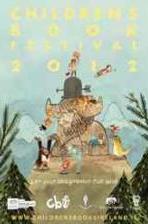 Dark days, and even darker nights - autumn is the perfect time to curl up with a good book. You might already have a toppling pile of books beside the bed, or sitting on a bookshelf just waiting for you to pick them up and bring the story to life by opening that first page. But if you are finished everything interesting in your 'to read' pile and are looking for a good book to keep you company over this mid-term break, perhaps you will find inspiration in the work of some of the authors who have been visiting Dublin City Libraries during October for Children's Book Festival. Some, like Judi Curtin are very well-known and don't need any introduction from me, while others, like Michael Carroll, who writes science fiction / fantasy novels, are less well-known, but equally engaging writers.
If you were lucky enough to be at Cabra Library or Drumcondra Library to meet popular author Judi Curtin, you will have heard all about how she started writing and how moving schools often as a child helped her become observant and made sure she always had good stories to tell. Judi's most recent book is 'Leave it to Eva' the third book in the 'Eva' series. There are seven books in Judi's earlier 'Alice and Megan' series, as well as a cookbook, so no need to run out of your favourite reads.
Younger children will enjoy the 'Alfie Green' series by Joe O'Brien, who visited Rathmines and Kevin Street Libraries, and older fans of Joe's work might try 'Beyond the Cherry Tree' a novel of fantasy, adventure and magic. Another author who visited libraries in during October is Debbie Thomas, whose book 'Dead Hairy' is quite hilarious. Children who met Debbie in Donaghmede, Coolock and Ballyfermot Libraries were also let in on the secrets of Debbie's new book 'Jungle Tangle' which isn't even in shops or libraries yet - but keep an eye out!
During week two of the festival we had a visit from Che Golden, who travelled from England to meet children in the Central Library, Rathmines Library and Terenure Library. There were plenty of questions for Che and we learned how her writing was inspired by her childhood visits to Blarney in Co. Cork to visit her grandparents - and we also learned exactly how little an author gets paid for each book sold (a lot less than you would think). Che's book, The Feral Child, is the first of a trilogy - and the first part is so exciting I can't wait for parts two and three.
Week three of the festival was the busiest week, starting with visits from environmentalists Éanna Ní Lamhna and Don Conroy. Many of Don's books, such as 'The Anaconda from Drumcondra' and the 'Draw with Don' series are still available in libraries, and Éanna's book, 'Wild Dublin' has something to offer all ages - along with great photographs. You can also download a free copy of Éanna's brilliant resource for primary school teachers 'Wild Things at School' published by the Heritage Council.
Eithne Massey writes for many age groups so she has something for everyone - for younger readers there's 'The Dreaming Tree' and 'Best Loved Irish Legends' while for older readers Eithne's fantasy novels (with an historical theme)  include 'The Silver Stag of Bunratty' and, her latest, 'Where the Stones Sing'. You can also view a list of Eithne's own favourite children's fantasy books. During the same week, the fabulous Cressida Cowell entertained over 400 children from schools all over Dublin - with her tales of Vikings and Dragons. 'How to Seize a Dragon's Jewel' is the tenth in the hugely popular 'How to Train Your Dragon' series - if you haven't tried them, now's your chance! Perfect for boys and girls aged 8+.
In week four we had visits from Nicola Pierce and Jean Flitcroft. Jean has written two books in her 'Cryptid Files' series; 'Loch Ness', which is set in Scotland and features the hunt for the famous Loch Ness Monster and 'Mexican Devil' which introduces us to El Chupacabra - a mythical monster from Mexico. Nicola Pierce writes historical fiction with a slight fantasy element in 'Spirit of the Titanic' a book that views the unfolding of the Titanic tragedy through the eyes of the ghost or spirit of Samuel Scott, an apprentice who was killed while helping to build the Titanic in Belfast docks.
The last official Children's Book Festival visit will be from science fiction / fantasy author Michael Carroll to Ballymun Library on Hallowe'en, Wednesday 31st October - the very last day of the Festival. Michael has written many novels and short stories for children, teenagers and adults as well as stories for comics like Judge Dredd and Futurequake. During these visits he will be talking mostly about the 'New Heroes' series; 'The Quantum Prophecy', 'Sakkara' and 'Absolute Power', all available from your local library. The full list and their American as well as English titles is available here. If you are between 10 and 14 and enjoy fantasy and science fiction books, come along to Ballymun Library on Wednesday 31st at 3pm for a great opportunity to listen to and chat with a real writer about how he writes, what inspires him, and also what inspires you and tips for writing your own stories.
So, loads of great ideas for new books to explore. Still not inspired? Drop in to your local library and browse along the shelves of great books
If you find the perfect book for you - why not share by letting us know all about it? All replies to this post suggesting a good children's read for these Autumn days will be entered in a draw for a newly published book by an Irish author (I'm keeping the title a secret until I get those entries in - so start suggesting now).