Published on 2nd April 2012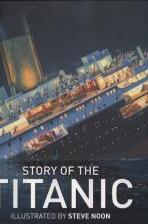 For our younger library visitors, coming soon to our shelves is 'Story of the Titanic' (illustrations by Steve Noon, published by Dorling Kindersley, 2012). This is the tragic story of the Titanic, with double-page illustrations, cross-sections and cutaway details explaining the construction and mechanical details of the ship and revealing life on board for passengers and crew.
You can also locate other books in our libraries on the Titanic.
Encyclopaedia Britannica this month brings the topic of the Titanic to life with its latest spotlight. To mark the 100th anniversary, primary school children can explore both the triumph and the tragedy of this great vessel.
As a library member you can access even more information on the Titanic from the fulltext version of Encyclopaedia Britannica; from your home all you need is your Dublin City Public Libraries' borrower number. From any of the many computers in our branch libraries, not even that!

From your home, first click the image link on the right, input your library card number and then visit Britannica Spotlight on the Titanic for unrestricted access.