The British Army in Easter Week
Published on 31st March 2016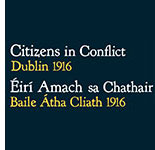 Citizens in Conflict #7. On paper there were nearly 3,000 British troops in Dublin on Easter Monday. But in reality the authorities were not prepared for immediate action. On Easter Sunday, only 400 British troops in Dublin were in 'immediate readiness' for action; 100 at each main barracks and a guard of six at Dublin Castle. Many officers were at the Irish Grand National at Fairyhouse, while the commander of forces in Ireland, Major-General Friend, in London. His deputy Colonel H.V. Cowan, had a total of 2,385 men available, including those at races or on a day's leave.
Apart from 6th Cavalry Reserve regiment at Marlborough Barracks, every unit in the city was part of an Irish regiment. The 3rd (Special Reserve) Battalion of the Royal Irish Regiment was at Richmond Barracks, the 10th Battalion Royal Dublin Fusiliers at the Royal Barracks, 3rd Battalion Royal Irish Rifles at Portobello Barracks. It was the 5th Royal Irish Lancers from Marlborough Barracks shot at in O'Connell Street.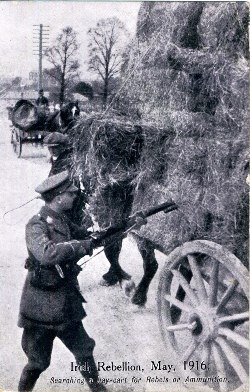 Image right: Postcard. "Irish Rebellion, May, 1916. Searching a hay-cart for rebels or ammunition."  From Dublin City Library & Archive, Birth of the Republic Collection (click to view larger image)
But once it became clear that serious trouble was in the offing, the military authorities suspended all civilian traffic on the Great Southern and Western Line. Between 1.17 and 5.30pm special trains brought 3,000 men from the Curragh to Dublin - all from Irish regiments. The Royal Irish Regiment were in action around the South Dublin Union, as were the Royal Dublin Fusiliers.
However in the 3rd Battalion area on the southside most of the fighting was with regiments landed from Dún Laoghaire, particularly the Sherwood Foresters. The exception was units from the territorial 'G.R.s' who were confronted near Beggar's Bush on Easter Monday.
During the Rising Irish units of British Army suffered approximately 29 fatalities and 93 wounded, out of a total of 103 British Army fatalities and 93 wounded.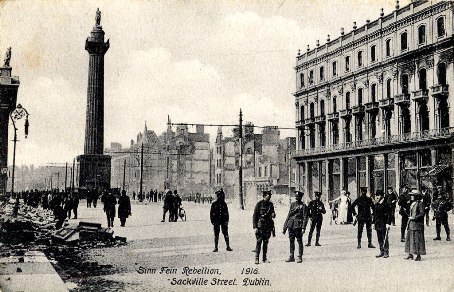 Image above: Postcard. "Sinn Fein Rebellion, 1916. Sackville Street, Dublin." From Dublin City Library & Archive, Birth of the Republic Collection (click to view larger image)
Browse and search the Birth of the Republic Collection online.
About
This article is one in a series created by Dr Brian Hanley, historian-in-residence at Dublin City Library & Archive, to coincide with the exhibition 'Citizens in Conflict: Dublin 1916 / Éirí Amach sa Chathair: Baile Átha Cliath 1916', running at Dublin City Library & Archive from January to June 2016.
Dublin Remembers 1916 Programme of Events | Hashtag: #Dublin1916