CBI Book Awards 2018 Shortlist Announced!
Published on 21st March 2018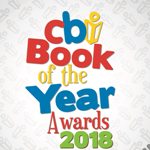 As big fans of children's books we are always excited when the Children's Books Ireland Book of the Year Awards shortlist is announced. As usual they reflect the quality of Irish writing, illustration and publishing for children.  Many of these are already firm favourites with Dublin City Public Libraries readers - young and old.  Congratulations to the writers and illustrators whose ten books who will now compete for the prestigious awards. These awards include the Children's Choice Award, which is voted for by youth readers from all over the country.
The CBI Book of the Year Awards celebrate excellent literature and illustration for children, and were established in 1990. CBI, which administers the awards, will again be working closely with reading groups from schools, libraries and bookshops across the island of Ireland. These young readers will choose the winner of the Children's Choice Award. Reading groups nationwide are invited to sign up for the shadowing scheme via www.childrensbooksireland.ie.
Why not read the ten shortlisted books and pick your favourites! Read more about these books at childrensbooksireland.ie/cbi-book-year-awards-shortlist-announced
Here's the full 2018 CBI Book of the Year Awards shortlist with links to our library catalogue:
Jenny Murray, Acting Director at CBI said 'Children's Books Ireland's goal is to make readers of every child by making books a part of their day-to-day lives. This year's shortlist encompasses everything from the value of friendship, feminist fairytale retellings, the plight of refugees, the march of the suffragettes, the awe-inspiring universe, through to the never-to-be-underestimated lure of chocolate cake … All of the titles on this year's shortlist highlight the very best of Irish writing, illustrating and publishing for children and young readers.'
The winners will be announced on 23 May at Dublin's Smock Alley Theatre, during the International Literature Festival Dublin.