Published on 17th January 2019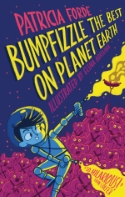 This spring children in Dublin are urged to keep their eyes peeled for mysterious aliens at their local library as Bumpfizzle – the Best on Planet Earth by Patricia Forde, has been chosen for the 2019 Citywide Reading Campaign for Children.
Bumpfizzle is an alien, sent to Earth from Planet Plonk on a research mission. Or is he really just a ten-year-old boy who is feeling a bit disgruntled at all the attention his parents are lavishing on The Baby? It is up to readers to make up their own minds. The author, Patricia Forde, has published numerous books for children in English and in Irish, two plays, in addition to several television drama series for children and teenagers. She has worked as a writer on both English and Irish language soap operas. In another life, she was a primary school teacher and the artistic director of Galway Arts Festival.
The illustrator Elīna Brasliņa is an illustrator from Riga, Latvia. She has illustrated fifteen titles to date, most of them picturebooks, children's books and young adult novels. Her work has been nominated for many local awards as well as the prestigious Kate Greenaway Medal. She has twice received the Zelta Abele Award for Book Design, as well as the Janis Baltvilks Baltic Sea Region Award (2017).
This is the eighth year of the city wide reading initiative. Previous books selected for the Citywide Reading Campaign in previous years include; Arthur Quinn and the World Serpent by Alan Early, The Nightmare Club series featuring Annie Graves, The Powers by Kevin Stevens, Danger is Everywhere by David O'Doherty and Chris Judge, The Book of Learning by E.R. Murray, Knights of the Borrowed Dark by Dave Rudden and last year's book was Making Millions by Erika McGann. The aim of the campaign is to encourage children to read for pleasure. There will be author visits to many Dublin City Council branch libraries as well as city-centre based events in bookshops, the National Library of Ireland and Dublin City Gallery – Hugh Lane. The campaign ends with fun events based on the book, as part of the St. Patrick's Festival's in Merrion Square. Copies of the book are available in all Dublin City Public Libraries as well as in all good bookshops.  Dublin City Council Library stock can be borrowed from libraries nationwide.
Key Events;
•    Author visits to Dublin City Public Library branches between January and March. Class visits booked locally at branch libraries.
•    Cabra Library, Navan Road, Dublin 7, Tuesday 29th January at 3.30pm (Booking Essential; [email protected] or ph. 8691414).
•    The National Library of Ireland, Kildare St, Dublin 2. Thursday 7th February at 10am (Booking required: Contact Bríd O'Sullivan  [email protected])
•    Dublin City Gallery - The Hugh Lane, Charlemont House, Parnell Square North, Dublin 1 Saturday 16th March 11am-12pm
Author Patricia Forde says: "I am delighted and very excited that Bumpfizzle The Best on Planet Earth is the 2019 Citywide Read.  Bumpfizzle is an alien- which may attract some funny business from other planets - but I think Dublin children are up for that. I sincerely hope so.  We may need heroes before this is over."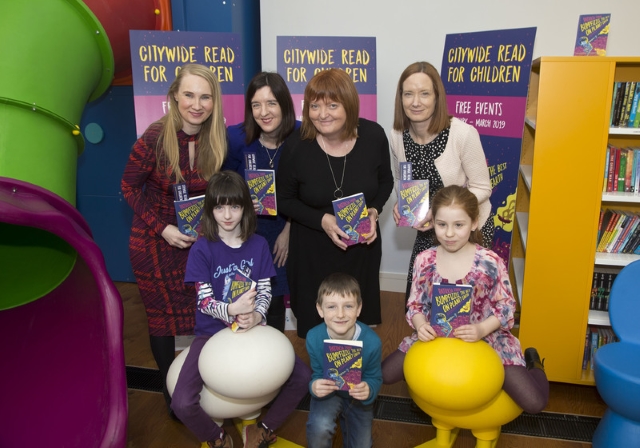 (Dublin City Public Library Staff, Patricia Forde and Kids at Launch)
(Photo Credit Fennell Photography)
You can download a Reading Guide to the book, suitable for teachers and parents at http://www.dublincityofliterature.ie/projects/citywide-read/
The campaign is run by Dublin UNESCO City of Literature and Dublin City Council Public Libraries, in partnership with Little Island Books, and is funded by Dublin City Council's Public Library Service and the Department of Culture, Heritage and the Gaeltacht.