Comics Plus - comics for your computer, tablet or phone.
Published on 21st May 2018

Comics Plus is the new app from Dublin City Public Libraries. It gives you unlimited access to thousands of digital comics and graphic novels. I've been using the app for a couple of years now and it's worth spending some time poring over it.
" src="/sites/all/modules/contrib/wysiwyg/plugins/break/images/spacer.gif" title="<--break-->">There are tons of titles for children like Teenage Mutant Ninja Turtles, Ghostbusters, My Little Pony, Transformers, Skylanders, Kung Fu Panda, Powerpuff Girls, Strawberry Shortcake, Plants Vs Zombies, and Angry Birds but, for most of us, it's the adult-orientated material that is more interesting. There are plenty of graphic novels, film tie-ins, and trashy horror comics; enough to keep you going for a long time if you felt like it. There are some gems in there that, in themselves, make Comics Plus worth using.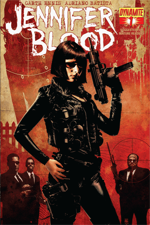 Local(-ish) hero, Garth Ennis, is well represented. I've re-read all 70+ issues of his searing, anti-superhero satire, The Boys. I've lived as a housewife with a secret vendetta in Jennifer Blood, and been part of a back-stabbing, tactical assault squad in Red Team. Additionally, this app has thrown up a real treat in the form of A Train Called Love. If you enjoyed Ennis' ultra-violence, puerile humour, and smutty visuals in the likes of Dicks and Hellblazer, then this will be right up your alley. It's stupendously silly, outrageously homicidal, and contains enough seaside sex tableaux to furnish the Blackpool Promenade through the high season.      
Beyond the gritty black humour of Ennis & Co., Comics Plus has fourteen volumes of the horror classic, 30 Days Of Night. I first became aware of this series after the Hollywood adaptation with Josh Hartnett. Not everyone liked it, but it remains one of my favourite screen portrayals of vampires. There's no romance in Barrow, Alaska. These vampires are feral animals, and it's that killer instinct and bloodlust that make them so compelling. The long-running comic series finds new and surprising ways to scare and enthral.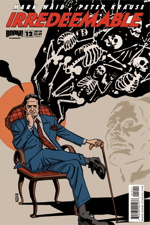 This app is also a good way to discover new reads. I've just started Mark Waid's Irredeemable, and Herik Hanna's Bad Ass. Comics Plus: Library Edition has over 16,000 titles. Marvel and DC Comics are conspicuous by their respective absences but the app includes comics from IDW, Dark Horse, Dynamite, and Boom!, so you won't be short of options. In the USA, apps like this make up 10% of the graphic novel market, and that number is still growing.
You can access comics whenever you want them, with no holds or waiting. You can read them through your web browser on any computer, tablet, or smartphone with an internet connection. You can read titles through both iOS and Android. The user interface could use a bit of re-jigging. The search option is poor, so the best way to browse the daunting selection of titles is to narrow it down by genre, or publisher -  then instantly check out your favourites.  Each checkout is for seven days, and you can renew titles or check out expired titles as often as you wish. The comics you read can be stored in the cloud, or downloaded to your device.
Marc McCluskey