Conversation Exchange at the Central Library
Published on 13th July 2011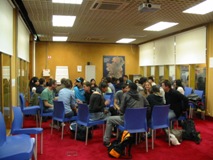 If you are currently learning a language or want to maintain your speaking skills in a particular language,  then come along to one of our conversation exchange sessions in the Central Library.
We have eight such sessions in the following languages: Italian, Spanish, French, German, Irish, Japanese, Russian and a multilingual session for any language not included here.
These are informal; there's no need to book, just come along to the Activity Room at the appropriate time (listed below). For example, on Monday evenings Italian people who want to practice and improve their English will attend and speak to English speakers who want to improve their Italian. It's a pleasant way to speak with native speakers, learn about their country and make new friends.
On Fridays, the multilingual exchange is for all other languages not covered on the other days. English speakers are particularly welcome to this as there are lots of Brazilians, Koreans who want to practice with native speakers. Even if you don't speak Portuguese or Korean etc., it's a nice way to get to know people from a different culture.
Similar exchanges also take place in some of our other branch libraries.
The timetable for the Central Library is as follows:
English/Multilingual Conversation Exchange - open to speakers of all languages including English speakers: Fridays, 3.30 - 4.45pm
French/English Conversation Exchange: Wednesdays, 6.00 - 7.45pm
German/English Conversation Exchange: Saturdays, 1.00 - 2.30pm
Irish/English Conversation Exchange: Saturdays, 11.30am - 1.00pm
Japanese/English Conversation Exchange: Saturdays, 10.00 - 11.30am
Russian/English Conversation Exchange: Friday, 2.00 - 3.30pm
Spanish/English Conversation Exchange: Tuesdays, 6.00 - 7.45pm
Italian/English Conversation Exchange: Mondays, 6.00 - 7.45pm