The Coroner's Daughter by Andrew Hughes
Published on 10th July 2020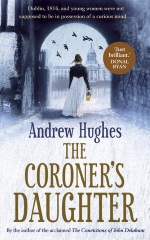 During the lockdown, I came upon books in all sorts of ways. Once I had exhausted my supply of library books, I started swapping books with my neighbour, who was in turn, supplying half the street with books! Our very own neighbourhood library. And this was how I chanced upon Irish writer, Andrew Hughes's, second novel – "The Coroner's Daughter".
The book is set in Dublin in 1816, known as the year without a summer. A dust cloud (a result of a volcanic eruption in the East) has covered Western Europe leading to freezing temperatures, a permanent fog, and visible spots on the sun. Religious fervour is on the rise, and there are those who say the end of the world is nigh.
Against this rather eery setting, a nursemaid is arrested for the murder of her newborn child, only to be found dead days later. This is followed by the discovery of a second body in Blessington Basin.  Natural causes or a murderer on the loose? Someone is hiding something, and our heroine, Abigail Lawless is determined to find out who.
Abigail is a great character. Only daughter of the city coroner, she is curious, clever, and a scientist at heart. Not character traits that were much admired in a woman in the 19th century. But this is a dangerous game she is playing, and there are those who wish to silence her for good.
This book is a real page-turner, and I would highly recommend it to anyone who enjoys historical crime fiction. I particularly loved the descriptions of Dublin in the 19th century, and it was fascinating to read about areas of the city which are now utterly changed. Indeed, Phibsboro Library is just minutes away from much of the action of this novel!
The Coroner's Daughter is available to download on Borrowbox, or you can order it from your local library. Submitted by Lara in Phibsboro Library.
Access eBooks/eAudiobooks on your phone, tablet or reader. Once you have installed the app, search for Dublin in the 'Library' field provided and then sign in using your library membership card number and PIN. Watch our how to video on Borrowbox. Members of other library authorities will need to log in using a different link.