County Development Plans - What are they?
Published on 9th April 2015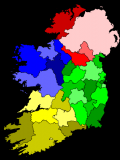 What are Development Plans?  County Development Plans are written statements, including maps, that give a graphic representation of how that county will develop and improve in a sustainable way over the following 6 years.
As one Development Plan is produced the draft of the next is underway. These glossy and colourful reports contain social, economical, cultural guidelines for every county and are well worth looking at. They are pricey to purchase - up to €200 per plan but as the Business Information Centre has a full collection, 31 in total, just drop in and browse. Get on the inside track and be informed.