Published on 27th July 2020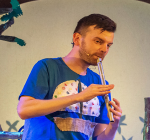 Join up for an amazing experience at our Creative Hubs this summer. These events can be booked online at Ballyfermot, Cabra and Coolock libraries and provide children and families with high quality arts experiences for free.
The programme is co-ordinated by the Dublin City Arts Office for libraries and you can choose from music, stories, drama, dance and art events.
We engage with artists and performers who are experienced and imaginative with a fresh approach in their field who encourage children and families to explore and share positive time together.
The emphasis is on creativity whether  through a performance or an activity. The programme  has a groundswell of support from local organisations and schools in the communities of Ballyfermot , Cabra and Coolock.
Dublin City Council are making it easy and free for children to access the arts with this big bold initiative so why not join the adventure this summer, what are you waiting for?
Download the brochure and book at the following libraries:
[email protected], tel.: 222 8411
[email protected], tel.: 869 1414
[email protected] , tel.: 222 8490