Published on 20th September 2016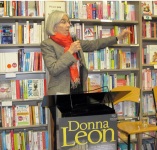 Crime fiction books are forever popular, as a look at any weekly bestsellers list will demonstrate. Think 'The Girl on the Train' (which I've just finished reading, and enjoyed), it's been a bestseller for umpteen weeks. Liz Nugent was topping the Irish bestsellers for a number of weeks recently with 'Lying in Wait', while James Patterson's name features regularly on such lists, albeit with books penned by other authors.
Right: Donna Leon in Dubray Bookshop, Dublin, April 2013. (See larger image)
Most of my reads are of crime novels in translation, as I like to travel the world a bit, at least in print. This literary journey recently took me even as far as Argentina and new-to-me author Claudia Pineiro (see below), an author I might not have discovered if it weren't for the International Dublin Literary Award. The inclusion of novels in translation adds greatly to the standing of this Award and differentiates it from most other book awards, and you could do worse than visit the Award site where you will be presented with hundreds of books to choose from, many in translation.
Without further ado, here are five more crime fiction reads worthy of your consideration, four of which have been translated into English. Can you guess which one of the five was written in English? (answer at the bottom)
The star ratings are mine, but I also include the ratings from two of the big book sites.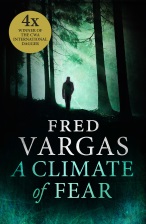 A Climate of Fear

by Fred Vargas
The murder of a woman, made to look like suicide, is soon followed by another. A strange symbol is found near both bodies, and both victims were members of a doomed party that travelled to Iceland ten years before. The victims also seem to have had an association with a secretive society for the study of Maximilien Robespierre. Plenty of mystery here then!
Commissaire Adamsberg and his team are really challenged in their efforts to solve the growing number of related murders with evidence at first pointing one way and then another. While the Icelandic connection seems to lose traction with most of the team, with Adamsberg is does not, resulting in friction and loyalties being called into question. The reader too is challenged to decide if clues are real or merely false trails.
I can't say this delighted me as much as previous books by French writer Vargas. I rate her very highly so maybe I had high expectations, however the whole Robespierre angle just didn't grab me I'm afraid and at times I found it a bit tedious. But there is still enough here for me to recommend it, if not heartily; maybe you will think more of it than I did.
Ratings: Amazon UK - 4.1/5 Goodreads - 3.9/5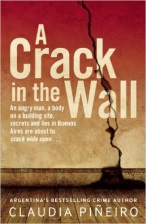 A Crack in the Wall

by Claudia Pineiro 
Pablo Simó is a married, middle aged architect in a Buenos Aires practice, living a rather ordinary life, neither happy nor unhappy, and with no great expectations of life. But together with his two work colleagues, he harbours a secret that resurrects itself with the appearance one day of a young woman called Leonor who arrives at their practice asking about a certain Nelson Jara. Keeping the secret under wraps becomes more difficult when he strikes up a relationship with Leonor who has asked him to accompany her around the city on an architectural journey. As the day unfolds and details of the three-year old secret become known to us, one thing seems certain: Pablo's life in so many ways is about to change for ever.
Not your typical crime story this, it is as much about one individual looking at his life and finally deciding to do something to change its course. In that regard the ending might surprise a little. I liked this.
Ratings: Amazon UK - 3.7/5 Goodreads - 3.34/5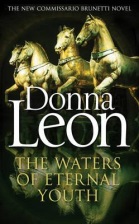 The Waters of Eternal Youth

by Donna Leon
Commissario Guido Brunetti is back, this time attempting to discover if, some 15 years before, then 16-year old Manuela Lando-Continui fell into the canal or was pushed. The incident left her brain damaged and forever with the mind of a six year old. Her now elderly grandmother, the Contessa, is keen to discover the truth or otherwise of the outcome of the original police investigation, which concluded, with little or no actual investigation, that she fell.
The 25th book in the series starts with a dinner party at which Brunetti is present together with his wife Paolo and her parents. Food always plays a part in the Brunetti series, which I welcome, as I do the home scenes involving Paolo and their children Chiara and Raffi. Ever present also are computer whizz Signorina Elettra, and officers Vianello, Patta and Scarpa, the latter two being as ever less than sympathetic to Brunetti but who the Commissario invariably outwits and out manoeuvers. No different here.
An enjoyable enough read enhanced as ever by insights into Venetian life and Venice itself.
(Ratings: Amazon UK - 4.7/5 Goodreads - 4.07/5).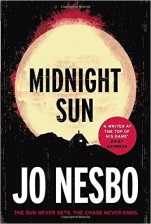 Midnight Sun

by Jo Nesbo
Jon, going under the name Ulf for most of the story, is a hapless criminal on the run from his Oslo drug boss known as the Fisherman. His criminal involvement is driven by his desire to pay for his dying child's medical treatment. He somehow becomes the Fisherman's fixer but as an assassin he is an abject failure. As a result he heads for the north of Norway above the Arctic circle where he hides out in a small town. Here he befriends some of the locals including 10-year old Knut and his widowed mother Lea while he waits for the inevitable arrival of the fisherman's henchmen.
This differs in so many ways from Norwegian Nesbo's Harry Hole crime series, being shorter (a novella), less violent, having a far simpler plot line and a likable criminal as the central character. It is more about the characters than the crime, it is about second chances. Nesbo is a storyteller first and foremost, thus the prose is simple and you will find this an easy and quick read.
(Ratings: Amazon UK - 3.9/5, Goodreads - 3.61/5)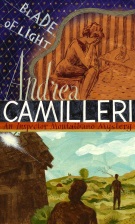 Blade of Light

by Andrea Camilleri
Inspector Salvo Montalbano is here investigating an armed robbery that ends with a kiss, and strange goings on at a shed with a disappearing door. Throw in a body that has all the hallmarks of a mafia hit and the involvement of the anti-terrorist police and you have the makings of yet another intriguing and entertaining Camilleri novel.
This is the 19th in the Montalbano series and ever present too is the eclectic mix of characters, the beautiful Sicilian backdrop, and Salvo's love affair with food and women, though he has more success with one than the other. Should I maybe mention the presence of yet another love interest to challenge Salvo's long term, long distance relationship with the lovely Livia? If only Livia would come back to live on Sicily instead of making her sad to say brief appearances, sometimes only on the phone at that!
Camilleri's crime mystery books are invariably clever, full of twists and humour, and always a great pleasure to read.
(Ratings: Amazon UK - 4.6/5, Goodreads - 3.96/5)
Below: Donna Leon and myself in Dubray Bookshop in Dublin , 11th April 2013, when she was talking about her work and signing copies of her book 'The Golden Egg' (Commissario Brunetti, #22).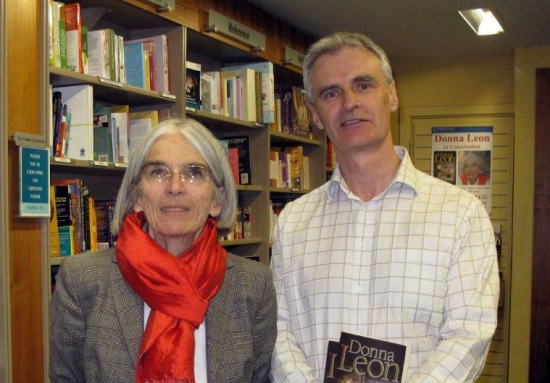 And the book written in English is... 'The Waters of Eternal Youth' by Donna Leon. American Donna Leon lives in Venice where her books are based, and all the novels in the Brunetti series (25 to date) have been written in English. Although they have been translated into many languages, she refuses to have them translated into Italian, her explanation being that she doesn't  want to be famous where she lives, preferring a certain level on anonymity in her own back yard. Now you know!