Crime Fiction of a Truly International Flavour
Published on 29th October 2014

My crime fiction reads have taken me to many lands and long may that continue. In my previous blog post I visited Italy, Iceland, Sweden, South Africa and Botswana. In this latest compilation of crime reads I revisit Italy and South Africa, while also venturing to the USA, Sweden, Norway and France.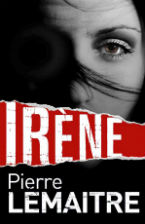 Starting with France and moving in a clockwise-direction, we first encounter Pierre Lemaitre, whose book 'Alex' I have covered previously and thought very highly of. Now it is time to mention 'Irene'

, the prequel to 'Alex', yet which followed it in translation. But reading 'Alex' first, as I did, can prove a bit unfortunate for obvious reasons, so I do recommend you stick to the proper order if you haven't yet read either. And read you must, for I can't recommend this author highly enough. He writes so well, and he is excellent on plot, characterization, atmosphere and tension building. But there is a word of caution: his portrayal of violence is not for the meek, and may put off some. So while you would be forgiven for moving quickly on at some points, you should not let it detract from your pursuit of otherwise top quality crime writing, which both 'Alex' and 'Irene' are. It would be good to know though that an author of Lemaitre's obvious talent could produce just as capable a work without the need for such graphic depictions of violence.
A serial killer is on the loose, and his murders show marked similarities to those featured in some classic, and even some obscure, crime fiction novels. The diminutive and rather interesting Commandant Camille Verhoeven of the Paris police force and his team have the task of trying to find the murderer. To add even more interest to the plot, the Irene of the title refers to Verhoeven's wife, who is pregnant with their first child. Thus all the while you are reading this book you might wonder how and to what extent Verhoeven's personal life forms part of the story. Also too there is present in the story an academic who identifies the similarities between one murder and that featured in a crime novel by James Ellroy, and an irritating journalist who is not making Verhoeven's life any easier.
Inevitably there is a race to catch the killer before he strikes again, you will be working just as hard as Verhoeven to make sense of the clues as you go. 'Irene' is an engaging read, you will soon want to follow it up with 'Alex'.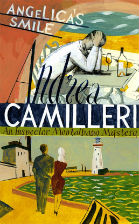 Heading south-east,  we land in Italy, or to be more precise, Sicily, land of an eternal favourite of mine, Commissario Salvo Montalbano. 'Angelica's Smile'

 is the 17th in the Montalbano series from Andrea Camilleri, and while still a clever, humourous, and entertaining read, it is not quite on a par with some of his previous. In this latest mystery, as usual based in the (fictitious) coastal town of Vigata in Sicily, Salvo is involved in trying to solve a string of copycat burglaries of seeming acquaintances who all own two properties. While not enamoured at being involved with mere burglaries, he is so because of the reputation of some of those burgled, and any disquiet he has is quickly dispelled when he meets and becomes infatuated with one of those burgled, the beautiful Angelica. What is it that ties the burglaries together, and why is the perpetrator sending him clues in anonymous messages? Is the reason for the burglaries something other than mere theft?
Camilleri's plots are nearly always well thought out and need to be in order to keep this long series fresh. Yet I always yearn for more of Livia, Salvo's long-time girlfriend, whose appearances are always all too frustratingly short. There is the usual midnight stakeout, regular visits to his favourite eateries, trouble interpreting Officer Cateralla, and uncertainty regarding his relationship with Livia. And also, as appears usual, not everyone may be as they might appear. Maybe therein lies the clue to events.
Sometimes Camilleri's books end with a tinge of sadness; this one may fall into that bracket, but for what reason I won't reveal. The reason could be either that the story is too short, someone maybe not deserving of it proves guilty, or that the ending is slightly ant-climatic or maybe even unsurprising. But see what you think!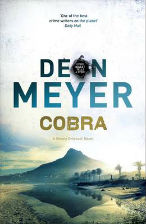 Leaving Sicily, we travel a great distance south to encounter the latest from South Africa's Deon Meyer, namely 'Cobra'

. 'Cobra' is the fourth in the Captain Benny Griessel series based in and around post-apartheid Cape Town. In this thriller/police procedural, Griessel is in a race against time (isn't he always?) to find a kidnapped British scientist (Adair) before further killings ensue. Further, that is, to those that occurred when the scientist was kidnapped by an assassin, or group of, whose call signs are bullet casings engraved with a spitting cobra. They seem to be a very professional and ruthless group of hitmen determined to recover a memory card which has fallen into the hands of a pickpocket who plies his trade in an effort to support his sister who is attending college. With his sister's life also under threat, the pickpocket pursues his own means of safeguarding her life while maybe trying to profit from having the memory card in his possession. Invaluable information regarding global terrorism seems to be what's at stake, and maybe even the involvement of big business. Thus the mystery; who is behind efforts to recover the memory card and the kidnapping of the scientist? Will we find out?
This is a pacy, well plotted suspenseful thriller, as Meyer's books invariably are. Much of the story revolves around the kidnapper and his role in proceedings, you might say at a cost to Griessel's own role. Griessel is a recovering alcoholic who does not always see eye to eye with his superiors, a trait common to the principal police characters in many crime/thriller novels. The ending is violent (but not descriptively so), but will it leave you satisfied? Read and see!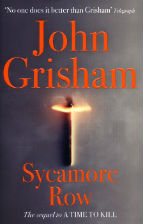 The flight from South Africa to Mississippi, USA, is a very long one but one well worth taking in order to encounter the prolific John Grisham. 'Sycamore Row' 

 is his latest but one novel (his most recent being 'Gray Mountain') and is also the sequel to 'A Time to Kill' starring small town lawyer Jake Brigance. This courtroom drama is set in Mississippi in 1988, three years after events in 'A Time to Kill' (Grisham's first novel), and again race relations and prejudice are at the centre of the story.
In 'Sycamore Row' wealthy businessman Seth Hubbard rewrites his will shortly before taking his own life, a decision heavily influenced by his advancing cancer. This will leaves the bulk of his estate to Lettie Lang, his black housekeeper, much to the ire of his relatives and surprise of everyone else. Thus ensues a courtroom challenge to the will, central to the challenge of the relatives being Seth's 'testamentary capacity' and the possible 'undue influence' of Lettie Lang. Jake of course has been charged with defending the last will by Hubbard in a letter sent before his death, and while its defence looks a relatively straightforward task initially, events unfold which threaten to tear down the defence and see the will put aside in favour of an earlier version. Meanwhile also a search ensues for Seth's long lost brother, himself due to inherit in the new will and who also is the only link with the past, a past which may or may not have a bearing on events of the present. A certain humour is introduced by Grisham in the manner in which he deals with Seth's relatives and their supposed new found love for their Uncle Seth, a love which was not very evident when he was alive. How the possibility of inherited wealth can sway the hearts of so many!
The courtroom element of this novel is its strongest aspect, which by and large covers most of the book! So yes, I enjoyed this, as I usually do Grisham's novels. The ending too is quite strong, something I can't say about a number of Grisham's other novels. The only gripe I might have is the character of Jake himself, too clean, too nice, no faults to list or complicate him as a character. I guess it makes the book ripe for another film blockbuster like 'A Time to Kill' became, starring as it did Matthew McConaughey.
I just about give this four stars out of five, which I did to his previous 'The Racketeer', but 'The Racketeer' I can definitely say I did prefer.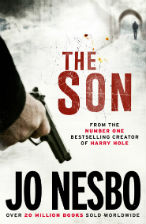 Crossing the Atlantic we arrive in Norway, home of that ex-soccer player come ex-rock band member come rock climber come well known author, Jo Nesbo, creator of the bestselling Harry Hole series. 'The Son'

, however, is a stand-alone revenge thriller, so no Harry Hole here. But Nesbo has done that before with 'Headhunters'. In this rather long book (over 490 pages), 30-year old drug addict and convicted two-time murderer Sonny Lofthus, having served 12 years in prison, escapes to seek revenge for his father's death. His father was a police officer who apparently hung himself leaving a note admitting to corruption and disgracing his family. Thus the reason Sonny went off the rails and ended up in prison. While in prison Sonny behaves like a model prisoner but only so that he can have his drug habit fed; he is even ready to admit to crimes in order to continue feeding his habit. But discovering the truth of his father's death brings an about-turn. When Sonny escapes, he goes on a murder spree, seeking out those who had anything to do with his father's death. One of those he seeks is the 'Mole' an unidentified police officer guilty of feeding information to the Twin, one of Oslo's leading mobsters and a very dangerous man. The principal other character in the story is police officer and reformed gambling addict Simon Kefas, the once best friend and partner of Sonny's father, and the man given the task of capturing Sonny and thus bringing the killing spree to an end.
This is the type of book which requires you to suspend belief somewhat. Sonny, a long-time heroin addict willing to admit to crimes in order to feed his habit, is suddenly able to kick the habit and escape prison; while in prison he is seen by other prisoners as having powers of healing and forgiveness and thus they are quite willing to confide in him in the hope of gaining spiritual forgiveness; and Sonny's ability to survive on the outside, despite 12 years incarceration, are quite remarkable. There is also a love interest; how this formulates itself and why may also require some blind acceptance on the part of the reader.
All through the story is the underlying question as to who is or was the Mole? Whether or not this is revealed by story's end I won't say as that might be to reveal too much. Overall, I think you will enjoy the level of action, the story's twists and turns, its fast-pace, and a certain suspense. But you may struggle with the book's length and those elements which require suspension of belief. And maybe too the level of violence that is present. This book seems a perfect fit for film adaptation, which may have been in the author's mind when writing it I suspect; the latest word has it that Channing Tatum may co-direct and star in a Hollywood production.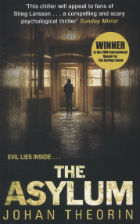 The final part of our trip takes us the short hop to Sweden, home of many a well known crime writer, including in this instance Johan Theorin. I was initially reluctant to read Theorin's 'The Asylum' 

, and for a time my progress was a little tentative, as the subject matter involves children and a child carer of suspect character and with a troubled past. Given the story is told from the main character's point of view, albeit in the third person, there is an unsettling feeling in having such access to his train of thought, his mindset. But if you stick with it, this slow moving psychological thriller will not disappoint, providing you don't mind a story that doesn't really allow you to side with, or feel sympathy for the main character, indeed any character, for fear that your sympathies might be ill-placed. Thus an unease stays with you throughout.
In the story Jan, the main character, takes a job as a child carer in a day care centre attached to a secure psychiatric hospital. The children in this centre are the offspring of some of the inmates of the hospital, and they are allowed in on regular visits to their parents via a connecting passageway. Supposedly housed in the hospital is a woman from Jan's past whom he hopes to make contact with again. Indeed its his reason for applying for this particular post. Jan's past is revealed piece by piece, including his previous association with this woman, his previous employment in another pre-school and a particular experience that left an obvious mark on him. There are others of course held in the hospital, include a child killer, with whom another working in the day care centre has contact. The plot thickens!
The story's psychological aspect, the tension, the uncertainty, all are its strongest points, and despite some unlikely circumstances, the slow pace, and an ending that is not quite the equal of the rest of the book, this book is still worth your attention. That being said, it is not quite on a par with the author's best ('Echoes from the Dead' and 'The Darkest Room'). 
Happy reading!