Crime Reads can be Guilty Pleasures
Published on 24th July 2015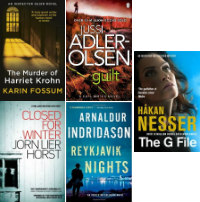 It's been some time since I've had the chance to share with you my crime reads, so when I do get the chance there is guilty pleasure aplenty. This time round I am focusing on books from the Nordic region, with titles in translation from Swedish, Icelandic, Norwegian and Danish authors. Now this concentration might be no surprise to anyone who follows my posts here on the library blog, as I am an avid reader of crime titles in translation, Nordic writers having a particular appeal for me. But not exclusively, as you will see next time round when I will venture further south to France and Italy and even to Thailand and South Africa!
But back to the present, and I have to start with a BIG favourite of mine, Norway's Karin Fossum, and the 7th title in the Inspector Sejer Series, The Murder of Harriet Krohn

.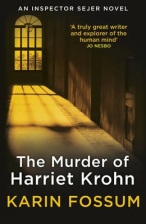 Charlo Torp, a flawed if otherwise ordinary individual, robs an elderly widow and in the process kills her when she resists. The story is largely set in the aftermath of the killing and is told by and from the perspective of the killer. Although part of the Inspector Sejer series, the Inspector features little in this one, yet you sense their paths will eventually cross given Sejer's record of having no unsolved cases.
Charlo plans the robbery as a way of solving his gambling debts and, in his eyes, giving himself a fresh start. His wife is dead and he is somewhat estranged from his daughter Julie, and he sees this too as a chance to redeem that relationship and leave his gambling problems behind him. Charlo is a weak, unsympathetic, self-pitying sort of person, constantly justifying his actions to himself, who sees himself as a reformed individual and he, not Harriet, as the actual victim.
This is largely a character study, something Norwegian crime author Karin Fossum is so very adept at. Fossum's books are often concerned with 'what if' type scenarios, placing ordinary people in despairing situations where things go wrong and spiral out of control, resulting in inevitable tragedy.
I'm a huge fan of Karin Fossum and I can highly recommend this book as I do her others.
Book Summary:
Charles Olav Torp has problems. He's grieving for his late wife, he's lost his job, and gambling debts have alienated him from his teenage daughter. Desperate, his solution is to rob an elderly woman of her money and silverware. But Harriet Krohn fights back, and Charlo loses control. Wracked with guilt, Charlo attempts to rebuild his life and regain his dignity. But the police are catching up with him, and Inspector Konrad Sejer has never lost a case yet. Told through the eyes of a killer, 'The Murder of Harriet Krohn' poses the question: how far would you go to turn your life around, and could you live with yourself afterwards?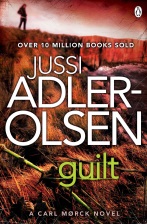 Next up is Denmark's Jussi Adler-Olsen and Guilt

, the 4th title in the Department Q series. Yet another excellent title from Adler-Olsen. Plot, characters, atmosphere, tension, this story of revenge is strong on all fronts. While the underlying story might be a dark one, there is even humour and mystery around members of the team itself that will maintain your interest on several levels. The ending will not disappoint. I can highly recommend.
Book Summary:
1987: Nete Hermansen, a young woman brutally assaulted in her youth, sterilised without her consent by a fanatical surgeon, and banished to Sprogo, the island for outcast women is planning her escape and her vengeance. And soon people begin to go missing and no one - certainly not the police - knows why, nor that individual cases are connected.
Today: Carl Mørck and his assistants Assad and Rose in Department Q are examining old missing persons cases and spot a disturbing pattern from 1987.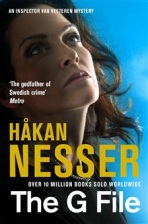 Sweden's Hakan Nesser is the author of the Chief Inspector Van Veeteren series, which is set in a town called Maardam, situated in a fictional northern European country. G File

, is the final book in the series. 
The now retired Chief Inspector can't help being drawn away from his antiquarian book store when his one unsolved case resurrects itself.  While Van Veeteren featured to a lesser degree in a number of the most recent titles in the series, here he takes centre stage, which is a welcome development. The book covers two time periods, 1987, when the death of a woman results in an unsolved case as the prime suspect has a water tight alibi, and 2002, when the disappearance of a private investigator involved in the unsolved case results in Van Veeteren revisiting the case.
This is the only case Van Veeteren had failed to solve in over 30 years of police work, so it is fitting that it should be the subject of this, the final book in the series.
In 1987, ex-police officer and private detective Verlangen, whose life has been heavily influenced by his drinking , is hired by a woman to follow her husband. However her death soon after and the fact that her husband had recently taken out a policy on her life lead to he being charged with her murder but walking free soon after due to his watertight alibi. Fifteen years later Verlangen goes missing and his daughter seeks Van Veeteren's help. It turns out that Verlangen seems to have uncovered new evidence regarding the death in 1987, and so Van Veeteren pursues the investigation afresh as well as the discovery of Verlangen's whereabouts.
Van Veeteren displays his usual talent and determination in pursuit of this case, despite he being retired for some five years. The question is - can he finally solve his one outstanding case and what might well have been the perfect crime?
The book is quite a long one (600 pages), with the first half set in 1987, but because it is in two parts your interest won't wane. Lend to that the fact that Nesser delivers an atmospheric crime thriller with a well constructed plot line, and interesting and well developed characters, not least Van Veeteren himself. Nesser's ability to surprise also makes his books interesting reads. A worthy finale to the series, it is up there with Nesser's best and will be time well spent.
This series has been so successful that most of the books have now been turned into film.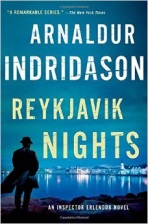 Iceland's Arnaldur Indridason's Reykjavík Nights 

differs from other titles in the series featuring Erlendur in that it takes you back to when Erlendur was a young policeman on the beat and first showing an ability for crime solving. So very different to the books featuring the older Inspector Erlendur and, should you have read any,  you have to try and forget everything you know and think about him to large measure as it isn't really relevant to the young Erlendur.
Erlendur works the night shift with two colleagues patrolling the streets of Reykjavík, and in so doing he meets and interacts quite closely with many of those who live rough on the streets and whose lives are hard and marked by drink, violence and poverty. The death of one man living rough, whom Erlendur knew, from an apparent drowning and the disappearance of a woman the same night show no clear signs of being related until Erlendur starts to enquire into the man's life and death.
In the course of his private investigation unknown to his colleagues, he interacts with several characters living rough and others of questionable character, and it is this aspect of the book which holds most interest, the insight into the lives of those unfortunates proving interesting and revealing. In fact the scenes are probably reflective of the lives of many such unfortunates in any European city. They don't welcome his interest and interference as they would see it, and are suspicious of his motives and guarded of their lives and circumstances. So his investigation, while well intended, meets most resistance from those whom he seeks to help.
True to form, Erlendur does make progress with his investigation and in true style his doggedness, his humanity and his eventual success serve to show why he went on the become the successful detective we are so familiar with in the other books he features in and set later in his life. While his own personal tragedy, namely the disappearance of his brother when he was a young boy, does not really feature in the story, its influence on him is evident in his desire to discover what has happened to the woman who has disappeared.
While not quite on a par with his best, Indridason has nonetheless delivered here a book worth reading and certain not to disappoint.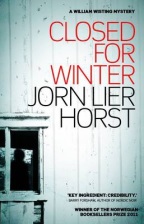 Closed for Winter 

was my first encounter with Norway's Jorn Lier Horst, and I'm afraid this particular police procedural didn't quite do it for me. Due in part to the author's style, also I found the very short chapters stilting and interrupting of the flow. It is slow moving, and I have to say I just struggled to engage with it.
Book Summary:
Ove Bakkerud, newly separated and extremely disillusioned, is looking forward to a final quiet weekend at his summer home before closing for winter. But, when the tourists leave, less welcome visitors arrive and Bakkerud's cottage is ransacked by burglars. Next door, however, there is an even more shocking discovery - the body of a man who has been beaten to death. Police Inspector William Wisting has witnessed grotesque murders before, but the desperation he sees in this latest murder is something new.
Happy reading!