Danger is everywhere in Dublin this spring!
Published on 19th November 2014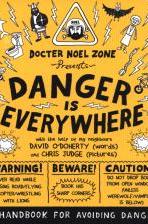 Have you ever wondered is your teacher a vampire or is your pet cat in fact a dangerous tiger? This spring we are inviting boys and girls in Dublin to become qualified 'dangerologists' by reading Danger is Everywhere by David O'Doherty as part of our Citywide Reading Campaign for Children. This fun book, which is similar in style to the Wimpy Kid books, points out the dangers of everyday objects from your schoolbag and pet cat to the dangers of having a party or brushing your teeth.
This book has great illustrations by Chris Judge and will appeal to both girls and boys of mixed reading abilities. There will be author and illustrator visits to public libraries as well as city-centre based events to promote this campaign. The final event of the campaign will take place as part of the St. Patrick's Festival. More details will be available over the coming months.
The Citywide Reading Initiative is run by Dublin UNESCO City of Literature and Dublin City Public Libraries, in partnership with Puffin Books and encourages children to read for pleasure. The campaign runs from January to March 2015.
Remember to log onto www.dublincityofliterature.ie where you can find out more details about this exciting campaign. You can borrow Danger is Everywhere from Dublin City Public Libraries and other public libraries.