David Oistrakh, Artist of the People?
Published on 13th May 2011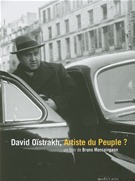 David Oistrakh, Artiste du Peuple? is a film by Bruno Monsaingeon which traces the life of David Oistrakh,  who is recognised not only as a great violinist but also as one of music's most interesting personalities. Born in Odessa in 1908 into a Jewish family of merchants, David Oistrakh lived through the troubled years of the October Revolution. At the age of five he began studying the violin and viola and went on to perform at many concerts throughout the Soviet Union playing Khachaturian, Shostakovich, Prokofiev and others to packed audiences. He won several prizes along the way including the Stalin Prize in 1942.
As a result of the political situation at the time and especially because of Stalinism and World War II, Oistrakh's career in Western Europe, America and Japan bloomed relatively late. Oistrakh continued to play the violin, sometimes on the front lines for thousands of soldiers. He was allowed to travel after the end of World War 11. The fact that he had joined the Communist Party allowed him certain freedom.  He travelled to the countries in the Soviet Bloc and even to the West and eventually, in 1955, he was allowed to tour the U.S.. By 1959, he was beginning to establish a second career as a conductor and in 1960 he was awarded the coveted Lenin Prize. At this stage he had already become one of the Soviet Union's principal cultural ambassadors, giving live concerts and recordings. However, he died suddenly in Amsterdam, having suffered a third heart attack and is buried in Moscow. He was married with one son.
David Oistrakh remained very loyal to Russia, to the people and to whoever was in power at the time "I owe this regime, whatever its faults, my life. They gave me my musical upbringing".
I found this DVD very interesting, not just for the music but also because it gives a great insight into life in Russia during the war times.
You can contact staff in the Music Library, via telephone (01) 8734333, email [email protected] or in person. The Music Library is located in the Central Library, Ilac Centre, Henry Street, Dublin 1.