Decisive battle at Waterloo
Published on 15th June 2015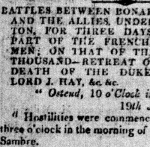 Brussels Monday 19 June 1815
News is just coming in of a major battle between the English and French which has taken place in the countryside south of Brussels. The battle site centred on Mont-Saint-Jean near the village of Waterloo.
Since his escape from Elba earlier in the year and his astonishing overland march through France to Paris, the Emperor Napoleon, has once again threatened the peace of Europe. He fielded an army of some 72,000 soldiers, among them his battle-hardened old Guards. The Emperor could be seen on his distinctive white mare, Desirée, inspecting his troops before the battle was commenced, and at intervals throughout the battle galloping across the field of slaughter.
(Click images below to view larger versions)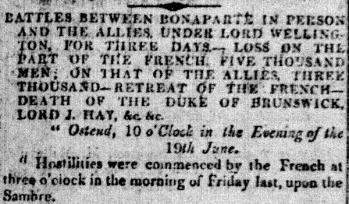 The English and Dutch-Belgian forces were led by Commander-in-Chief Arthur Wellesley, created Duke of Wellington last year (May 1814). Dubliners will fondly remember the Duke's late father, Lord Mornington, a noble gentleman well known in Dublin society and a gifted musician. Many will have followed the Duke's career in the Peninsular Wars and more recently in diplomatic service.
Just before 11.30 local time on Sunday 18th the French guns sounded and the Emperor's brother, Jerome, made a brave fight at the Château d'Hougoumont. The main body of French troops went into battle singing. The Scots Greys, led out to the sound of bagpipes, made a valiant but doomed attack on the French positions on the plateau of La Belle Alliance. The French released wave after wave of cavalry attacks until the key position, the farm at La Haie Sainte, was captured by General Ney's forces.
By evening of that fateful day the battle hung in the balance. The Prussian army commanded by Marshall Prince Blücher turned the tide of the battle. A second corps commanded by General Ziethen arrived and gave the allied forces renewed resolve to press on. The Emperor conceded the loss and retreated to Charleroi.
The losses were terrific: 25,000 French killed and wounded, as well as 15,000 of Wellington's army and 7,000 Prussian troops. Over 16,000 French prisoners were taken. Wellington declared the battle 'the nearest-run thing you ever saw'. What now for Europe? It looks as if the redoubtable Emperor will have to abdicate and perhaps we will see the return of King Louis XVIII.
Read more of the action at Dublin City Library & Archive Reading Room. Read The Freeman's Journal and The Morning Intelligencer for daily reports.