Digital Repository of Ireland Membership
Published on 16th May 2018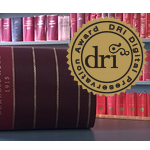 Dublin City Council is delighted to announce its membership of The Digital Repository of Ireland (DRI). Commenting on the membership, Brendan Teeling, Deputy City Librarian, said:
"The increased public interest in all things historical, sparked by the Decade of Centenaries, is great to see, and Dublin City Council is delighted to respond to that interest through our membership of the DRI.
Although we have digitized a significant amount of material so far, we have an awful lot more to go and we are confident that via the DRI our digital collections will be stored within a robust infrastructure, facilitating long term digital preservation and access.
Membership of the DRI also affords us access to invaluable support and expertise, as well as opportunities to increase the skills and knowledge levels of our own staff through DRI-provided training, workshops and symposiums.
We look forward to working with the DRI to provide even more access for the public to our rich and expansive collections."
Director of DRI, Dr Natalie Harrower said:
"It's a great pleasure to welcome Dublin City Library and Archives as our newest member. The DCLA holds a stunning range of collections that both document and illustrate the history Dublin over the last eight centuries, and we couldn't be more thrilled to partner with them. The digitised collections they will deposit with DRI include everything from cartoons, postcards and slides, to oral histories, historic parliamentary commissions, and war correspondence. We are honoured to assist Dublin City Library and Archives in the long term preservation of this fantastic material, and excited to witness how the objects will enrich serendipitous discovery in the repository."
Visit the Digital Repository of Ireland website.