Published on 1st June 2012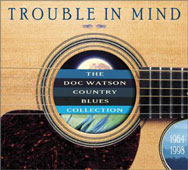 Doc Watson was the best American Folk guitarist that lived. He died on the 29 May 2012 at the age of 89. He was born into a musical family and lost his sight before his first birthday. Although he never had a hit record or was in the American Billboard chart, he was a leader of the American folk music that became commercially popular particularly through the Coen Brothers film, "O Brother Where Art Thou?". His distinctive style was born out of playing fiddle parts in a country swing band. Before that the guitar was a background instrument to the ukulele and fiddle. His lightening quick finger and flat picking style is a pleasure to listen to as it accompanies his mellow voice filled with sincerity.
He has won seven Grammy Awards and a Lifetime Achievement Award.
The Album Trouble in Mind is a compilation of performances and background of the earliest folk and blues songs that inspired him while growing up.
I think if you are new to his music then The Essential Doc Watson Volume 1 is a great place to begin. Both of these titles and more are available in the Music Library. There is also a biography available called Blind But Now I See.
If you are a fan of the Robert Plant and Alison Krauss album Raising Sand, then you are familiar with an original Watson song, Your Long Journey. Just go to www.youtube.com, and type his name in, enjoy!