Published on 3rd May 2020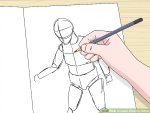 How often have you heard it said "I couldn't draw to save my life" or '"I couldn't draw a straight line" You CAN draw! The ability to draw is a skill that anyone can learn and does not depend on talent. It is a fundamental life skill, just like reading and writing. Want to learn how to draw? Or to improve your artistic skills and discover new techniques?
Let our online classes show you how, our colleague Marie from the relief staff panel will guide you through them.
Universal Class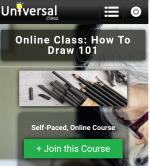 Let's look at How to Draw 101.
Over the course of 15 lessons you will learn the following:
•    The tools you'll need and how to use them
•    Drawing lines
•    Shading
•    Texture
•    Perspectives
•    Drawing  Animals, Trees, Flowers, People
•    To see the world as an Artist
•    and much, much more
Like all Universal Class courses, it includes tutorials, lessons, assignments, discussion boards, and feedback on work you've submitted.  It is also one of the select few courses which offers a VIDEO ONLY mode if you would like to watch the lessons only and not participate in assignments/exams or get instructor feedback. To access online, register with your library card number and email address.
The Great Courses Library Collection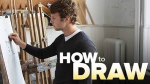 How to Draw has 36 thought-provoking half-hour video lectures. You can play, pause, and rewind as often as you like. This course is taught by award winning art Professor, David Brody of the University of Washington.  As with all courses in this collection, this has a supplementary guide book.
Among other things, you will
•    discover that the ability to draw is a skill that anyone can learn and does not depend on talent
•    study colour theory
•    change the way you see art and the world around you and
•    understand how to draw from observation and your imagination
When you register for The Great Courses Library Collection you have access to as many courses as you want to for 7 days.  When your 7-day unlimited access pass has expired simply log in again for another 7 days. Your account and your "recently viewed" titles will be stored until you access The Great Courses Library Collection again.
RBdigital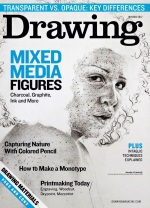 Check out these eMagazines
•    Drawing: Regardless of which medium you prefer, drawing is essential to give your art foundation. You'll find this magazine to be the single source for everything related to drawing.
•    Paint and Draw: Each issue will keep you enthused and inspired with exclusive interviews, features, news and reviews.  Step-by--step tutorials from professional artists to help you improve at your own pace. It also covers all types of media from pencils and pastels to oils,  acrylic and watercolours.
Watch our how to video here.

And finally, if you're looking for further inspiration, browse art from around the globe and through the centuries at Oxford Art Online. Look to the left of the Oxford Reference screen for the prompt to 'Sign in with your Library card', then select 'Dublin City Libraries'. Check out a full listing of all our great online resources.
Stay home, stay safe and happy drawing!