Dublin City Libraries' Worldcon Diary
Published on 29th August 2019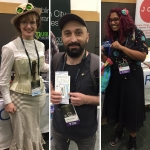 Dublin hosted its first Worldcon convention from August 15th – 19th 2019, organized by The World Science Fiction Society. Dublin City Libraries was there for all five days and Marc, our prolific Library Assistant, has put together a diary of the experience!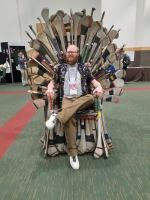 The outpouring of good feeling towards the libraries at WorldCon was overwhelming. We met people from all over the world; many of them librarians themselves. There were over 500 speakers at Worldcon over the five days and the scale of the event could be intimidating, but luckily we had our lovely pop-up library stand to retreat to when it all got a bit much!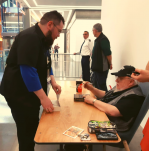 On the first day of Worldcon we had just finished setting up our library stand in the Dealers Room, when we spotted Game Of Thrones author, George R.R. Martin, getting a tour of the place! Understandably, his entourage are very protective of him, so we weren't able to get near him at first, but eventually tracked him down and he signed some books for the library!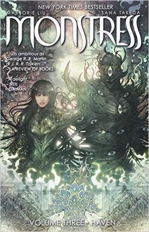 Emboldened by our experience with Mr Martin, on Friday I got to meet one of my favourite writers and SF/F personalities, Patrick Rothfuss. I hurried to the comics stand to get a new copy of Rick And Morty Vs Dungeons And Dragons for him to sign. Sana Takeda was at the signing table before him but she's so popular that the queue was longer than the allotted hour. The last three graphic novels she illustrated have all won the popular vote for the Best Graphic Story Hugo Award, so she's understandably in high demand. Rothfuss waited patiently and walked up the line chatting to people and signing. Some of his most devoted fans had been there for over an hour by that point.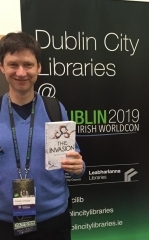 Our Dublin City Libraries stand was visited by prominent authors such as Joe Hill, John Connolly, Ian McDonald, and Conor Kostick. Michael Carroll and Peadar O'Guilin signed up for library cards!


Our staff boldly went where no librarian had gone before on the USS CuChulain, and we even had a bedtime story read to us!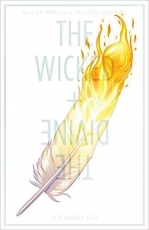 A kaffeeklatsch was a new thing for me. It's an intimate chat with an author/artist and a great way to get to know some like-minded people. Still buzzing from a brief chat with Pat Rothfuss, I sat at a coffee table for an hour with six other people talking about comic books. The special guest at this table was Kieron Gillen, probably best known in the comics world for his series, The Wicked And The Divine. If you're a regular WikDiv reader, you'll know that the grand finale is imminent. Gillen had received a pdf of the final issue shortly before we met him but sadly he couldn't share it with us.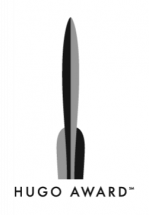 On Sunday, the last full day of the convention, I attended the Hugo Awards. It's something I never thought I'd get to do. Seeing the words "Hugo-nominated" or "Hugo-winner" on the cover of a book has always made me pick it up so to be there felt unreal. The winners of the Hugo awards are bold and outspoken with a tangible frustration about continuing inequity in the world.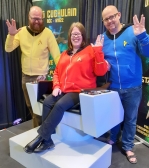 A sense of community and inclusiveness pervades the science fiction and fantasy world. More than just the all-gender toilet facilities, Worldcon is clearly a safe place for non-binary and transgender people and that is reflected in representation at the Hugos and by their clear visibility at the con.

It took time to put my finger on where I'd experienced this sense of community and inclusiveness before; the punk rock scene. There's no elitism here and new people are always welcomed. You can feel the punk spirit throughout, with no division between artists and fans because it is recognised that the fate of the genre depends on everyone working together. It was an inspiring experience. SF/F community, we love you.