Dublin Festival of History 2018
Published on 23rd August 2018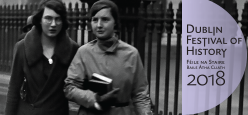 Dublin Festival of History returns for it's sixth year and takes place from the 24th September to 7th October. This year will see over 140 events across the city, with talks, walks, tours and exhibitions on a wide range of topics, including the historical impact of gaming, former slave and abolitionist Frederick Douglass' time spent in Ireland, a queer history of Kilmainham Gaol, an evening of conversation and music with Christy Dignam, as well as numerous events marking 100 years of Irish women's suffrage. All events are free.
The Festival will culminate with a 'Big Weekend' series of talks at City Hall and the Printworks, Dublin Castle, taking place from Friday 5th to Sunday 7th October featuring many best-selling historians. Michael Palin will bring to life the history of the ship HMS Erebus, Anne Applebaum will discuss Stalin's war on the Ukraine in the 1930s, while Helen Rappaport will shed new light on the murder of the Russian Imperial Family after the Bolshevik Revolution, 100 years after their death.
Commenting on the launch of the full programme of events, Brendan Teeling, Dublin City Librarian, said: "The Dublin Festival of History has been growing year-on-year since we started in 2013 and we're delighted to launch an expanded and diverse programme of events for this year's Festival, all completely free of charge. We're immensely proud of the diversity of topics, and we're also really pleased that once again the Festival has achieved gender balance, in fact we have a majority of female speakers on our line-up this year. 
"History isn't just for academics – whether you have an interest in fashion, gaming, GAA, maps or want to know more about the first wave of Irish feminism – we'll have an event for you. We'd encourage everyone to check out our programme, come along to an event and learn something new."
If you have an interest in history you can't miss this Festival and remember, all events are free!
The Dublin Festival of History is brought to you by Dublin City Council and is organised by Dublin City Public Libraries.
View the full programme at dublinfestivalofhistory.ie | Library-based Events |  Dublin Festival of History programme (PDF, 6.32MB)