Dublin Festival of History 2021
Published on 23rd August 2021
The 2021 programme is live, with over 90 events taking place from the 20th of September to the 10th of October. All events are free, but advanced booking is required. A new addition to the programme this year is a number of children's and family events. 
The Dublin Festival of History, now in its ninth year, features a mix of in-person and online events. As well as our local aficionados, speakers/panels hail from Europe and the UK. 
Dublin City Libraries will host a range of events as part of this year's programme, including an event commemorating local footballer and football manager Patrick O'Connell hosted by Drumcondra Library, an event charting the history of tennis in Dublin 6 hosted by Rathmines Library, and a map-making workshop for children hosted by Donaghmede Library.
The festival climax 'The Big Weekend' is happening from Friday the 8th until Sunday the 10th of October at The Printworks at Dublin Castle (subject to public health guidelines).
The Dublin Festival of History is brought to you by Dublin City Council, and organised by Dublin City Libraries, in partnership with the Dublin City Council Culture Company.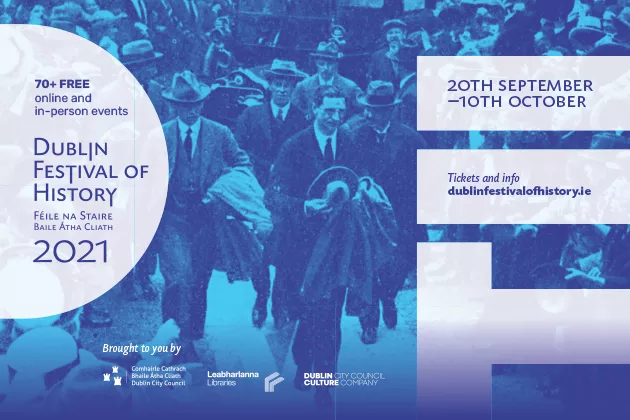 Some of the highlights from the 2021 programme include: 
Neil Jordan in conversation with Stella Tillyard
Multi-award-winning author and film director Neil Jordan will be discussing his new novel, The Ballad of Lord Edward and Citizen Small, in an online talk with distinguished historian Stella Tillyard. Based on real events, the novel is related by Lord Edward Fitzgerald's manservant Tony Small, a runaway slave who rescued Lord Edward after the Battle of Eutaw Springs during the American War of Independence.
Women's History Association of Ireland presents a discussion on the Mother & Baby Homes Report
A reflection on the writing and researching of histories, telling narratives and gender history in Ireland today. 
Fallen Idols: Twelve Statues That Made History
In 2020, statues across the world were pulled down in an extraordinary wave of global iconoclasm in Black Lives Matter protests. British historian, screenwriter and author Alex von Tunzelmann will discuss the subject of her book Fallen Idols, which looks at twelve statues in modern history and why they came down.
 
Diarmaid Ferriter, author of Between Two Hells: The Irish Civil War
An in-person conversation in which Ireland's leading historian discusses his latest book which draws on completely new sources to show how important this tragic war was for understanding Ireland now.
A conversation with Susan McKay, author of Northern Protestants: On Shifting Ground
In this in-person event, the acclaimed journalist and author talks about her latest book which tackles controversial issues, such as Brexit, the border, the legacy of the Troubles, same-sex marriage and abortion, the possibility of a United Ireland, and explores social justice issues, particularly the campaign for LGBTQ+ rights.
Myles Dungan, author of Four Killings – Land, Hunger, Murder & Family
An in-person event in which Myles Dungan discusses his latest book with Caitriona Crowe, which relates how his family was involved in four violent deaths between 1915 and 1922, offering an original perspective on this still controversial period: a prism through which the moral and personal costs of violence, and the elemental conflict over land, come alive.
Basara: David Bowie's Kabuki Spirit
An online event at the Chester Beatty Library exploring Bowie's relationship with Japanese culture, focusing on kabuki, and how he embodied the aesthetic of basara – transgressive extravagance, with Josephine Rout, Curator of Japanese Art, Victoria and Albert Museum.
Speaking at the festival launch, Lord Mayor of Dublin Alison Gilliland, said "I'm delighted to officially launch this year's Dublin Festival of History. As we're all aware, we're living in a time of great political, social and cultural change, influenced in no small way by the Covid-19 pandemic. 
"However, the festival is an annual opportunity for us to explore and learn more about other significant periods of change in our history at both a national and international level, and the influence they have had on the world we live in today. I'm particularly excited to launch a number of events for children and families, fostering an interest in history and the world around us in our young people." 
Also commenting today was Dublin City Librarian Mairead Owens, who said, "Last year's festival was a significant one in its own history, moving online for the first time, which allowed us to open up the festival to wider audiences. This is something we want to build on this year, with a mix of both in-person and online events. This year's festival is wide-ranging and topical, exploring women's history, the significant milestones of the decade of centenaries, the American War of Independence, and more. 
"As well as that, libraries throughout Dublin will be bringing the local history of our capital city to life, and we have a host of events taking place in partnership with cultural institutions throughout Dublin." 
Iseult Byrne, CEO of Dublin City Council Culture Company, commented, "We are delighted to be able to partner with Dublin City Libraries to bring this exciting festival to people across the city and beyond. It's a fantastic opportunity to create more ways to connect with the culture, stories and histories of their city."