Dublin Festival of History Podcast
Published on 15th March 2022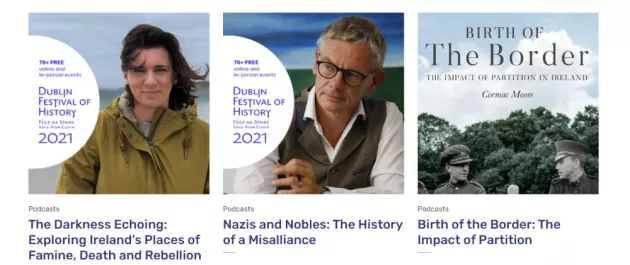 Delve into the Dublin Festival of History archives with our collection of podcasts recordings from previous programmes. The most recent series, featuring recordings from the 2021 festival, premiered in March 2022. You can subscribe to the Dublin Festival of History podcast on Acast, or on your podcast app.
The first three episodes are available to stream now, with new episodes published every Tuesday and Thursday for the next six weeks.
The Dublin Festival of History is an annual free festival, brought to you by Dublin City Council, and organised by Dublin City Libraries, in partnership with the Dublin City Council Culture Company.
Now in its tenth year, the festival has built a reputation for shining a fresh perspective on history and its importance in our everyday lives, attracting best-selling Irish and international historians to Dublin for a high-profile programme of history talks and debate each Autumn.
Details for the 2022 festival will be announced in due course. Sign up to the festival newsletter.