Dublin Literary Award Winner Colum McCann Reading and Q&A
Published on 12th July 2011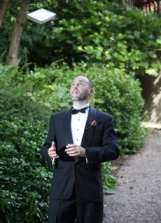 To mark the occasion of Colum McCann winning the 2011 International IMPAC Dublin Literary Award with his book Let the Great World Spin, Pearse Street library played host to a reading by Colum McCann and a question and answer session between Niall MacMonagle and the author.
(Photo: Jason Clark Photography)
In this fascinating session Colum talks about his personal experience of 911, and how he chose to confront it obliquely in his writing, rather than head on as Roth and DeLillo chose to do. He discusses the process of developing and managing the many characters, voices and narrative strands of Let the Great World Spin.  The conversation then turns to the issues of identity and place and a familiar motif in Irish writing, the writer leaving home to live and write abroad.
Listen to Colum and Niall's interesting conversation, followed by Colum reading from his winning novel.
Colum McCann Reading and Q&A Transcript
Here is a taster of what he had to say:
Niall: Early in the book the charismatic, mysterious John Andrew Corrigan we're told his theme was happiness, what's your theme?
Colum: I think my theme would be the possibility of grace in the face of all the other evidence that we see. The possibility of some sort of redemption. Many, many years ago I wrote a book called This Side of Brightness where I stayed with the homeless people that live in the subway tunnels of New York and these were people living in like really, really tough situations, you know, in little caves off to the side of the tracks in dirt and squalor and no matter what situation they were in every single one of those homeless people said to me "When I get out of here ...," not "if I get out of here" but "When I get out of here I will do such and such a thing".
Niall: The day job, when you're not writing novels, is teaching – Hunter College.
Colum: Oh yeah.
Niall: Tell me about teaching.
Colum: I've had loads of day jobs down through the years. I was a waiter, a bartender, a ditch digger – I did all sorts of things – but I love teaching. In fact, winning the IMPAC Dublin last night I had the chance to invite two of my teachers along and I have great admiration for them because I can remember my teachers, I can remember like being in 3rd class and the scratch of the chalk against the board and like all sorts of things. I have tremendous respect for teachers. I also have tremendous respect for ... I think teachers and librarians go in the same category for me. I think librarians are teachers and teachers are librarians in certain ways and I think they do tremendous things for us that don't necessary get acknowledged. And any country that doesn't look after its teachers, in particular, and its libraries and its books I think is doomed in a certain way. One of the great causes, I think, for optimism even now in Ireland after all the stuff has hit the fan is that we still do, I think, have a certain amount of respect for the book, for the word and I hope we continue like to have respect for, you know, those teachers. Well my wife's a teacher and all that sort of stuff so, you know, I'm invested in this but I think it's important.
Niall: Who have you been reading?
Colum: Well we get our voice from all the others that are around us. Right now I've been reading all this 19th century stuff, trying to get a voice around that Irish story about Douglas and stuff, so I've been reading Sheridan and I've been reading books that were published by Richard Webb here in Ireland, reading Frederick Douglas himself and all that sort of stuff. But then I've been reading, you know, the ones I love. Dermot Bolger, for instance, and Sebastian Barry, Roddy Doyle, you know, like all these ...
Niall: The women in your book ... there are more interesting female characters than male characters.
Colum: Yeah. Women are more ... I mean I realised half way through writing this book this is a women's book and not to say that men can't or won't read it but the women in the book take charge of what's going on, the men are a little bit more passive.
Niall: Had you a working title?
Colum No. No, I didn't know what it was going be and the most amazing thing about that title is it comes from Tennyson but it was inspired by a series of pre-Islamic 6th century Arabic poems called the Mu'allaqāt which are like the suspended poems or the hanging poems that the poets would put in the marketplaces around. In the Mu'allaqāt they ask – which goes to the theme of the novel – is there any hope that this desolation can bring me solace? And I was like, ah Jesus, you know. (laughter) I was lucky, yeah.