Dublin: One City, One Book 2015 is Launched!
Published on 25th March 2015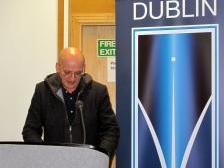 Dublin will become Barrytown in April as the city celebrates Roddy Doyle's Barrytown Trilogy, this year's Dublin: One City One Book choice.
Right: Author Roddy Doyle at the launch of Dublin: One City, One Book at Dublin City's Central Library this morning.
Dublin City Council's Public Libraries have organised a packed programme featuring over 60 events which will animate the Barrytown Trilogy throughout April.
Dublin's Lord Mayor Christy Burke announced the programme at a launch held in the Central Library, Ilac Centre earlier today. "Dublin: One City One Book is now a major event in the city's cultural calendar and has become very popular with Dubliners and visitors alike" said the Lord Mayor. "Roddy Doyle's Barrytown Trilogy invites us to remember Dublin's brand of soul music, an unexpected pregnancy and the pure joy of Italia '90. The wonderful programme of music, films, readings, discussions and exhibitions are the great way to experience Dublin this April."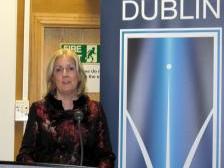 Dublin City Librarian, Margaret Hayes, added "The library service is particularly pleased to launch this programme here at the heart of the reader experience in a library that not only features in this book but one whose history and evolution has strong parallels with the featured  trilogy opening as it did  in July 1986. We are proud to attest that Dublin Public libraries is always at the service of Dubliners and their needs... at the centre of all our services is the desire to support lifelong learners like Veronica Rabbitte, to answer that question, to recommend the right book, to bring people and books together, to encourage readers to try new writers and especially to share their reading experiences, the raison d'être of the  OCOB idea,  now in its 10th year."
Left: Dublin City Librarian Margaret Hayes speaking at the launch.
Roddy Doyle, who will take part in several events during the festival, says "If I hadn't been born in Dublin I don't think I would have become a writer. I've always loved the sound of Dublin voices and when I started trying to put them down on paper thirty years ago, I knew I was doing something that I'd always love doing. So, I'm delighted, flattered, and grateful that The Barrytown Trilogy is this year's Dublin: One City One Book choice."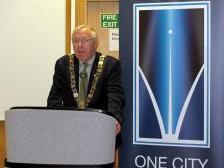 Right: Dublin's Lord Mayor Christy Burke launches Dublin: One City One Book 2015.
Festival highlights include "Barrytown Meets MusicTown" at Vicar St on 12th April - a celebration of the music and spoken word which inspired Roddy. "Are you Havin' a Laugh?" a hilarious exploration of Dublin's unique humour with Peter Sheridan at various venues from 30th March and "City of a Thousand Bands" which will relive Dublin's 1980s music scene at the Church Café on 21st April.
There are also photographic exhibitions, film screenings, concerts, and discussions which will explore the City and the people that inspired Roddy Doyle.
The Barrytown Trilogy is made up of The Commitments (1987), The Snapper (1990) and The Van (1991) and their publication announced the arrival of a new, contemporary and distinctive Dublin voice. A special Dublin: One City One Book Barrytown edition, published by Vintage, is available to borrow from libraries across Dublin and to buy in bookshops.
Dublin: One City One Book encourages everyone to read a book connected with Dublin during April. Now celebrating its tenth year, the festival is led by Dublin City Public Libraries as part of its UNESCO City of Literature Programme. It is supported by publishers Vintage, Department of the Arts, Heritage and the Gaeltacht, RTE Supporting the Arts and Dublin Town.