Dublin One City One Book and the novel Tatty
Published on 15th September 2020
Have you noticed the Tatty street banners flying high around St. Stephens Green and the one on Liberty Hall recently? Tatty is a novel by Christine Dwyer Hickey, which was first published in 2004, and this year was chosen as the Dublin One City One Book choice.
This reading campaign, which started in 2006 with Flann O'Brien's At Swim Two Birds, encourages people in Dublin to read a particular book that's connected with the capital city - either through the book or author. Tatty fits both categories – Christine Dwyer Hickey was born, bred and lives in Dublin and Tatty is based on her own childhood in 1960s and 1970s Dublin.
Told over a 10 year period we first meet Tatty when she's almost 4 years old. Her father nicknames her Tatty short for 'tell-tale-tattler' because she innocently tells her mother about the places to which her father took her during a long day's drinking.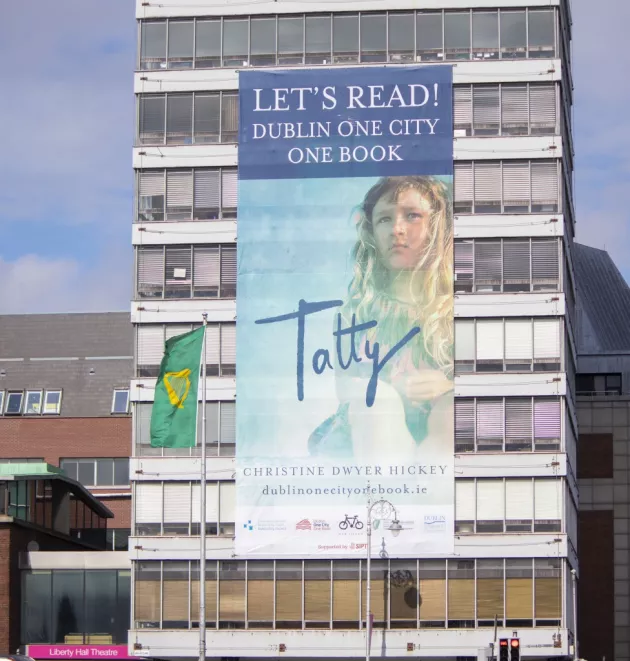 (Photo by Ger Holland.) Although the book is heart-breaking at times in its depiction of alcoholism, it's hilarious in parts and provides a fascinating insight into an Irish childhood from the point of view of the young girl. In his introduction to the book Dermot Bolger says 'Christine Dwyer Hickey brilliantly displays an uncanny ability to allow Tatty's child-voice to steadily mature with each passing year while remaining true to her quest to grasp what is happening and to let her story, and her family's story, be heard"
A whole programme of events planned for April were postponed due to Covid-19 restrictions but we're delighted that events in the New Theatre, Bray Literary Festival and Dublin Book Festival this September will celebrate this unique and brilliant novel and its author.
Check out www.dublinonecityonebook.ie for details on events, interviews with Christine Dwyer Hickey and readings from the book by actor Seána Kerslake.
Christine Dwyer Hickey in Conversation with Niall MacMonagle with Musical Interludes
A Dublin One City One Book and Dublin Book Festival Online Event.  Join us for a special online event with Christine Dwyer Hickey, author of this year's Dublin One City One Book choice Tatty on Thursday 24th September at 7pm. Christine will be in conversation with literary critic Niall MacMonagle in the beautiful setting of Kevin Street Library, Dublin. She will discuss Tatty, her varied writing career, and in particular how music influences her writing. Musical interludes will be contributed by pianist Leonora Carney, trumpeter Colm Byrne and piper Donnacha Dwyer. This event will be available to watch online via www.dublinbookfestival.com and www.rte.ie/culture
Please note that you need to register in advance to watch the event.