The Dublin: One City One Book Programme Now Available!
Published on 22nd March 2017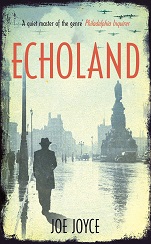 The Lord Mayor of Dublin, Brendan Carr, today launched the 2017 Dublin: One City One Book programme of events in Dublin City Library and Archive, Pearse Street.
Speaking at the launch the Lord Mayor said "I am delighted to be here this morning to launch the Dublin: One City One Book Festival and to announce Echoland by Joe Joyce as this year's book choice. Echoland brings the reader back to the Dublin of the 1940s and I know it will prove to be a popular choice with bookclubs and the City's many readers. I hope people will engage with the many interesting events that take place during the month of April as part of this wonderful festival."
Joe Joyce's novel Echoland, published by New Island Books, is the twelfth book to be featured as Dublin: One City One Book and joins a list of illustrious and interesting titles. Readers are brought back to experience life in Dublin during the Emergency of the 1940s.  This year's Festival, which runs during the month of April, offers an opportunity for readers to engage with the book, and the city, through music, readings, walks and interviews at various venues.
All events are free and details are now available online.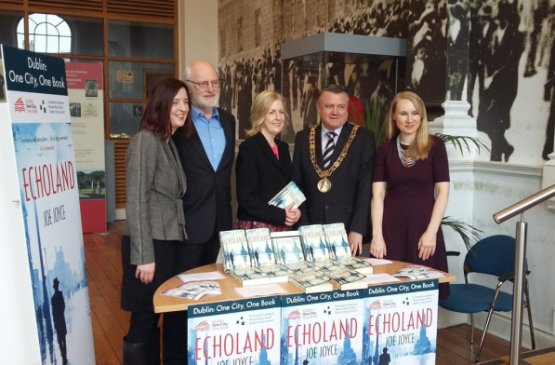 Pictured at the launch of Dublin: One City, One Book 2017: Jackie Lynam, author Joe Joyce, Dublin City Librarian Margaret Hayes, Lord Mayor of Dublin Brendan Carr and Alison Lyons, Director Dublin UNESCO City of Literature. (click to enlarge)
Joe Joyce commented: "I'm delighted and honoured that Echoland will be Dublin's One City One Book for 2017. The city is an integral part of the book, not just the backdrop to a spy story. As I was writing it, I was very conscious of the hardships and great dangers of the Emergency period, faced -- as always by Dubliners -- with resilience and wit."
Dublin City Librarian Margaret Hayes added "Dublin: One City One Book 2017 will be the twelfth year of this annual programme. Echoland is set in the Dublin of 1940, expertly capturing the atmosphere of the city as its citizens cope with the challenges of the Emergency. It's a brilliant opportunity for us to re-imagine our City as it was, while enjoying a thrilling read."
Highlights of the programme include:
Airman Michael J. Whelan will give tours of the Air Corps museum at Baldonnel, with a focus on aviation during World War II on Thursdays in April at 11:00am
Authors Sinéad Crowley, Andrew Hughes and Joe Joyce will talk about the challenges of writing fiction set in different time periods in a panel discussion entitled 'Writing Crime Fiction' in Dublin City Library & Archive on 25th April at 6:30pm
Author and journalist Mary Kenny will appear at the Mansion House to discuss her book 'Germany Calling: A Personal Biography Of William Joyce, Lord Haw-Haw' on 12th April at 6:30pm
Professor of Contemporary Irish History Eunan O'Halpin will talk about Spies in 1940s Ireland at Dublin Castle's Chapel Royal on 10th April at 6:30pm
The Festival is organised by Dublin City Council's Public Library Service.
Dublin: One City One Book is supported by publishers New Island Books, the Department of Arts, Heritage, Regional, Rural and Gaeltacht Affairs; RTÉ Supporting The Arts and Dublin Town.
Hashtag: #1city1book