Dublin Winter Lights Art Competition 2022
Published on 27th October 2022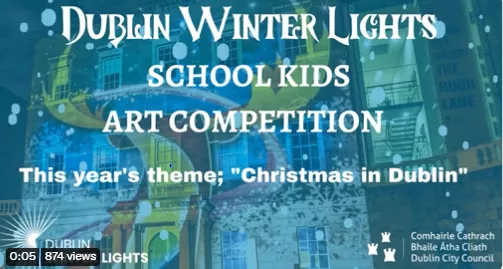 As part of 'Dublin Winter Lights 2022', Dublin City Council would like to invite primary school children living in the City Council area to take part in an exciting new Winter Art Competition.. These artworks will be projected at Barnardo's Square, Dame Street during the month of December with the top three entries being awarded a prize.  
Guidelines for artwork:   
Artwork should submitted using the template attached, in a circular format.  
Artwork should follow the theme of "Christmas in Dublin"  
Artwork should not contain any branding or political messaging.   
Artwork may be digital drawing, painting, sketch, collage etc but must be submitted as a high resolution file or scan in .jpeg, .png, .pdf format.   
Please label your file with your name/organisation/group name. Please include your age as prizes will be awarded by age category.
Please do not place your name/group name within the artwork.  
Dublin City Council reserves the right to use any submitted artwork as part of  promotional images and materials including social media. Closing date for entries is Friday November 11th at 6pm. Entries received after this date will not be included.  
Please email all entries to: [email protected]
All of the artwork entries will be projected onto Barnardo Square and on the dedicated Dublin Winter Lights website. Download PDF here. 
Watch this space
The story matches the locations of Dublin Winter Lights, and at each location the squirrel meets another animal. There will be QR codes at the site locations and the digital story will be available in full on the new dedicated Dublin Winter Lights website. Further updates will follow.