Echoland is Dublin: One City, One Book 2017 Choice!
Published on 28th September 2016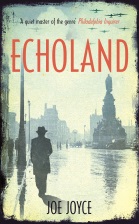 We are delighted to announce that Echoland by Joe Joyce, published by Liberties Press, is the Dublin: One City One Book choice for 2017. Echoland is the first novel in the Echoland series by Joe Joyce. Set in Dublin in the 1940s, with the threat of British or German invasion hanging over the country, it features young lieutenant Paul Duggan, who is tasked with investigating a suspected German spy. An addictive thriller about the double-dealing world of spies and politics, it shines a light on an exciting period in Ireland's history.
The announcement follows a highly successful Dublin: One City One Book Festival in 2016, when the book choice was Fallen by Lia Mills, and the festival became Two Cities One Book, when it twinned with Belfast for the commemorative year.
Lord Mayor Brendan Carr said "I am very pleased that Echoland by Joe Joyce has been chosen for 'Dublin: One City One Book' 2017. I am sure that lovers of thrillers and of history will enjoy this book. I encourage all Dubliners to read this book and participate in the programme of events during the month of April 2017, which offers opportunities to engage with Echoland in a range of contexts.'
Dublin City Librarian Margaret Hayes added "Dublin: One City One Book 2017 will be the twelfth year of this annual programme. Echoland is set in the Dublin of 1940, expertly capturing the atmosphere of the city as its citizens cope with the challenges of the Emergency. It's a brilliant opportunity for us to re-imagine our City as it was, while enjoying a thrilling read."
Joe Joyce said, "I'm delighted and honoured that Echoland will be Dublin's One City One Book for 2017. The city is an integral part of the book, not just the backdrop to a spy story. As I was writing it, I was very conscious of the hardships and great dangers of the Emergency period, faced - as always by Dubliners - with resilience and wit."
Since its inception in 2006, the Dublin: One City One Book Festival has encouraged everyone to read a book connected with Dublin during the month of April. The initiative is led by Dublin City Council's Public Library Service as part of Dublin's  UNESCO City of Literature designation and is supported by the Department of Arts, Heritage, Regional, Rural and Gaeltacht Affairs.
Check the availability of 'Echoland' in the library catalogue. | Download Echoland eBook.
Listen to Joe Joyce reading from Echoland (recorded in the Central Library, 3 October 2013)
A full programme of events will be announced in early 2017.
About the Book
June, 1940.
France is teetering on the brink of collapse. British troops are desperately fleeing Dunkirk. Germany is winning the war. Its next target is Britain . . . and Ireland? In neutral Dublin, opinions are divided. Some want Germany to win, others favour Britain, most want to stay out of the war altogether.
In this atmosphere of edgy uncertainty, young lieutenant Paul Duggan is drafted into G2, the army's intelligence division, and put on the German desk. He's given a suspected German spy to investigate, one who doesn't appear to do much, other than write ambiguous letters to a German intelligence post box in Copenhagen. Before Duggan can probe further, however, he is diverted by a request from his politician uncle to try and find his daughter, who's gone missing, possibly kidnapped.
Enlisting the help of witty Special Branch detective Peter Gifford, the two lines of inquiry take Duggan into the double-dealing worlds of spies and politics, and lead him back to a shocking secret that will challenge everything he has grown up believing. An addictive thriller that will keep you glued to the page, traversing the City of Dublin, right through to its heart-pounding finale.
About the Author
Joe Joyce is the author of five thrillers: Echoland, Echobeat and Echowave  (all set during the Second World War in Dublin); The Trigger Man (set during the Irish 'Troubles' in the late 1980s) and Off The Record (set in the 1970s world of Irish journalism); a history/biography of The Guinnesses and a critically acclaimed play, The Tower, about James Joyce and Oliver St John Gogarty.
He is co-author with Peter Murtagh of The Boss, the classic account of Irish politician Charles Haughey in power, and Blind Justice, about a celebrated miscarriage of justice in Ireland in the 1970s.
He has worked as a journalist for The Irish Times, The Guardian, and Reuters news agency. He lives in Dublin.