Embroidery and the calming power of craft
Published on 19th May 2020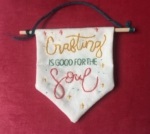 Here's one I made earlier... This is a project I made from a Mollie Makes magazine a few months ago. The message might have seemed a bit corny then but now I am reminded of the calming power of craft.
My favourite craft is embroidery. When I'm focussed on the correct length of a stitch or choosing a colour, there is no room for any other thought, negative or otherwise. Embroidery is a craft that doesn't require much equipment, you can use any textile and thread or wool. And you don't need to know a sampler's worth of  stitches - a simple running or back stitch can be just as effective.
If you are looking for inspiration, we have excellent sources on RB Digital.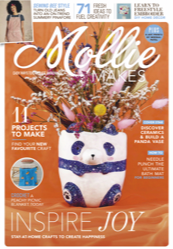 Mollie Makes is a cheerful have a go magazine covering a range of crafts and it assumes no previous experience. It's also a useful reference for anyone thinking of starting a craft business. The current edition has simple projects using what you might have around the house, for instance knit your own hairband and scrunchie (apparently the 90s are back and everyone needs help with lockdown hair).
Inspirations has been described as the most beautiful embroidery magazine in the world and it probably is. The current edition has an exquisite Chinese silk pomegranate project. But there is also a fascinating article and review about the author Clare Hunter on needlework and activism - how people at historic times of crisis have expressed themselves through banners and quilts for instance the Suffragettes, Greenham Common, the AIDS quilt.
Piecework is a magazine about the history of needlework. It covers handmade items from all countries and eras. For the modern craft person, it's inspiring to feel a a kinship across time and space with other makers. The crafts people of the past worked with whatever they could find - check your cupboard and your wardrobe. You can always buy supplies online but see if you can support Irish companies online first.
Register for RB Digital magazines. Watch our how to video here.
Submitted by Sandra from the Business Information Centre