The English writer best known for Swallows and Amazons
Published on 25th January 2022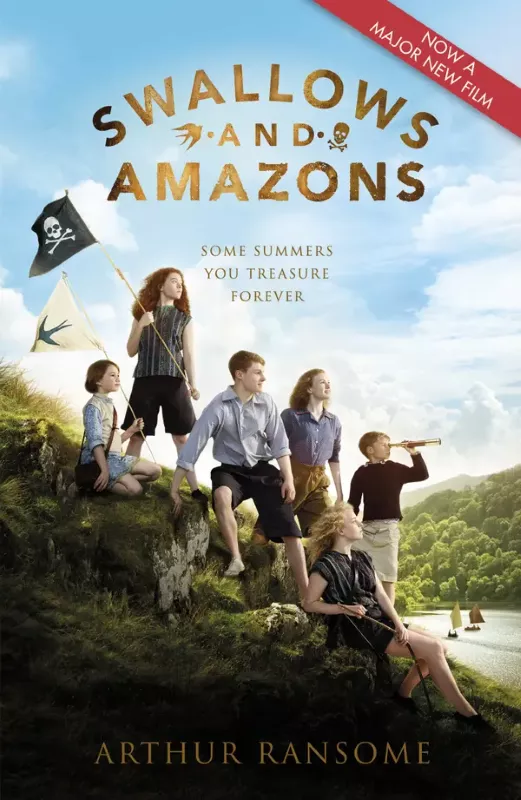 One would be forgiven for experiencing the feelings of bafflement and surprise when reading a biography of the author of Swallows and Amazons, Arthur Ransome.
It is a feeling similar to the one when you find out L.M. Montogomery, author of Anne of Green Gables, was addicted to drugs and died of an overdose. Swallows and Amazons is an exemplar of a classic children's novel involving Roger, Dick,Titty and chums embarking on a nautical ripping yarn, buttressed by jolly picnics with Mother's gooseberry tart, potted tongue, tinned corned beef, bunloaf and lashings of ginger beer.
The children are the epitome of the English bourgeois: modest, resourceful, polite, dull, patronising to the working class, and suspicious of Johnny Foreigner. This is a book of a childhood idyll, an England of decency and fair play, a metaphor of the British Empire as Imperium et Libertas. Swallows and Amazons is as English as a batting collapse against the Australian cricket team. Arthur Ransome was also a staunch defender and one of the chief propagandists on behalf of the nascent Soviet Union.
The Last Englishman: The Double Life of Arthur Ransome by Roland Chambers conducts a reconnaissance on Ransome's life, whereby Ransome makes the crucial decision to leave England in an effort to flee his catastrophic marriage and accepts a job offer to write a travel book in St. Petersburg in 1914.
Ransome was to bear witness to the disintegration of Tsarism, the humiliation and defeat on the Eastern Front and the subsequent rise of Bolshevik Power. He became close friends with the Bolshevik Propaganda Boss Karl Radek, and hero worshipped Lenin and Trotsky. Convinced that Marxist-Leninism was the only pragmatic and morally correct political ideology after the calamity of World War I, Ransome defended the Bolshevik regime in a number of pamphlets and articles in the British and American newspapers.
His book Six Weeks in Russia became an international best seller where he defends the tactics used in The Red Terror, Decossackizatation and Felix Dzerzhinsky's Cheka's policy of extrajudicial killings. Ransome returned to the Lake District after the Civil War with Trotsky's private secretary who he later married. Ransome's subsequent career saw him discard class warfare and criticism of Imperialism, and embrace Anthony Trollope's view of the British Empire - 'We are called upon to rule…not for our glory, but for their happiness.'
As is Hollywood's wont, a good way to make money is to 'reboot' an old money making cultural artifact and Swallows and Amazons got the treatment in 2016. To give the film 'edge' and to attract contemporary audiences, a shaggy dog espionage plot is tacked on to the story: in a postmodern gambit, the screenplay has Rafe Spall play Jim Turner - a morally ambiguous simulacrum of Arthur Ransome.
During the early 1920's British Secret Service viewed Ransome's pro-Bolshevik writings and unfettered access to the Soviet Politburo as an opportunity to open a back channel to the Bolsheviks - thus Comrade Arthur, whilst supporting the Soviet Dictatorship of the Proletariat, was also readily trousering the King's Shilling - an ambiguous political position, and a premonition of Ransome's future moral pragmatism.
The books Anne of Green Gables by L.M. Montgomery and the DVD of 'Swallows and Amazons' (2016) are available to borrow from Dublin City Libraries.  
Access eBooks/eAudiobooks on your phone, tablet or reader. Once you have installed the app, search for Dublin in the 'Library' field provided and then sign in using your library membership card number and PIN. Watch our how to video on Borrowbox. Members of other library authorities will need to log in using a different link. 
Submitted by Tom in Drumcondra Library.