Enright on Orange Prize Shortlist
Published on 18th April 2012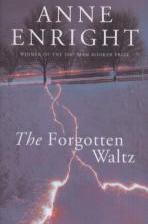 Yesterday saw the shortlist announcement for the 2012 Orange Prize for Fiction, the UK's annual book award for fiction written by a woman. In its 17th year, the Prize 'celebrates excellence, originality and accessibility in women's writing throughout the world' (quote).
Included on the shortlist is 'The Forgotten Waltz', the story of an adulterous affair and the fifth novel by Irish writer Anne Enright. Enright, who has been nominated three times for the Orange award, won the Man Booker Prize in 2007 for her novel 'The Gathering'.
Other books on the shortlist include 'Half Blood Blues' by Canadian writer Esi Edugyan, 'Painter of Silence' by Britain's Georgina Harding, and three works by American authors - 'The Song of Achilles' by Madeline Miller, 'Foreign Bodies' by Cynthia Ozick and 'State of Wonder' by Ann Patchett.
The award ceremony takes place in London on the 30th May.
You can read the full shortlist announcement on the award website.
Reviews of The Forgotten Waltz
"The Forgotten Waltz, teeming with credible characters that are difficult to empathise with, forces us to look in the mirror. It reveals human beings as capable of empathy, but not empathetic; capable of self-awareness, but constantly fleeing from it. It is a discomfiting public examination of conscience, an exposé of our national shortcomings so recently in the limelight." Irish Independent, April 2012.
"Cloaked in a novel about a love affair is a ferocious indictment of the self-involved material girls our era has produced." New York Times, Sept 2011.
"Less important than the momentum of the affair is Enright's playful and beautifully expressed examination of how it feels to cross the line." The Independent, March 2012.
"Enright has established herself as one of the most grown-up of contemporary novelists, one of the few to pay attention to the messiness of ordinary lives... Anne Enright has taken a great risk in writing this book, but she has brought it off superbly." The Telegraph, April 2011.