Published on 3rd September 2012
No, it's not a Beatles tribute band - but I couldn't resist the alliterative headline - the 'Fab Four' are four fabulous Irish writers for children and young people; Pauline McLynn, Conor Kostick, Brian Gallagher and Anna Carey, all appearing in the Phibsboro' area during Phizzfest, the voluntary community arts festival running 1st - 9th September 2012.
All these writers have connections with the Phibsboro' area and have generously given their time to the Festival, now in it's third year. But it's not only geography that unites them - it is also the quality and appeal of their books. Anyone looking for a short way of compiling a reading list for the 10+ age group would do very well to include the titles by these four authors - all of which are available in branches of Dublin City Public Libraries.

Anna Carey is a journalist and author of 'The Real Rebecca' an award-winning book for older children. We follow the Rebecca of the title through her first summer after Primary school as she looks forward to starting Secondary school with all her friends (a thinly disguised Dominican Convent School on Griffith Ave.). The fun in the story starts when Rebecca's mother writes a best-selling children's book about a teenage girl and all Rebecca's friends think it's about her – Rebecca is not amused!  The equally entertaining follow up book, 'Rebecca's Rules' will be published by O'Brien Press later in September.
Anna will be reading from her work and meeting fans in Phibsboro Library on Monday 3rd September at 6pm. Admission is free and all are welcome.
best remembered still for her brilliant portrayal of Mrs. Doyle in the legendary series Fr. Ted, has written her first book for young teenagers 'Jenny Q. - Stitched Up!' and it is as hilarious as you would expect. Pauline entertained a very appreciative Phizzfest audience yesterday (Sunday 2nd Sept) in Broadstone Hall at 3pm with a mesmerizingly side-splitting reading from 'Jenny Q.' and an even funnier account of how she became an author in the first place. After signing autographs and posing for photographs, Pauline then rushed back to put the finishing touches to the sequel to 'Jenny Q.' - we can't wait.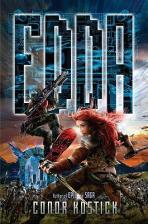 Conor Kostick is best known for his wonderful trilogy 'The Avatar Chronicles' comprising the novels; EPIC, SAGA and EDDA. Breath-taking page-turners, these novels are ideal for anyone interested in computer games, science fiction, fantasy, and indeed, the big questions of life. An interview with Conor and support material for classroom use are made available by O'Brien Press.

Brian Gallagher brings Irish history to life for young readers in his exciting historical novels 'Across the Divide' and 'Taking Sides' set in Dublin during the 1913 Lockout and the War of Independence respectively. O'Brien Press also provide teaching materials for these books. A third historical novel 'Secrets and Shadows', this time set in the aftermath of the North Strand bombings, is due out shortly.
Brian and Conor are visiting St. Peter's N.S. in Phibsboro on Friday 7th September as part of Phizzfest.
Phibsboro Library has been making all these books available to their readers during the summer - much appreciated during the rainy days I'm sure. Check them out on our catalogue or drop in to your local library to borrow any of these brilliant books.

is supported by Dublin City Council and Dublin City Public Libraries and the title sponsor is the Croke Park Fund.