Fallen is One City One Book Choice for 2016!
Published on 14th October 2015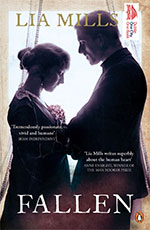 We are delighted to announce that Lia Mills' novel Fallen, published by Penguin Ireland, is the Dublin: One City One Book choice for 2016.
We are also delighted to announce that, for the first time, Dublin will team up with Belfast for a 'Two Cities One Book' Festival.  2016 will see a partnership with Libraries NI (the library authority for Northern Ireland) so that next April readers in Dublin and Belfast will engage with the same book at the same time. The initiative was launched at noon today (14th) by an tArdmhéara Críona Ní Dhálaigh and the Minister for Arts, Heritage and the Gaeltacht, Heather Humphreys TD.
Fallen, which tells the story of Dubliners against the backdrop of the dramatic events of Easter Week 1916, is a literary contribution to Dublin City Council's 1916 centenary programme.

An tArdmhéara Críona Ní Dhálaigh said "I am delighted that as part of Dublin City Council's 1916 commemorations, the Dublin: One City One Book Festival is joining with Belfast city through Libraries NI to celebrate the wonderful novel Fallen by Lia Mills. As a fellow Dubliner, I want to congratulate Lia on this, her third novel, and wish her every success with it.  Tá mé cinnte go mbeidh an-éileamh ar an leabhar  agus go mbainfidh léitheoirí Bhéal Feirste agus Bhaile Átha Cliath taitneamh as an úrscéal staire fíorthráthúil seo.  I congratulate Dublin City Libraries for this first time collaboration with Libraries NI."
Above: View photo slideshow above of the launch. (Some photos, credit: Jason Clarke Photography (see flickr photos))
The Minister for Arts, Heritage and the Gaeltacht, Heather Humphreys said "There are many ways to tell the stories of 1916. Historians will provide us with the factual accounts of the events of the Rising, but novelists like Lia Mills can add layers to that narrative. By focusing on personal stories, with which we can all identify, we can discover what daily life was like for the citizens who were caught up in a series of tumultuous events which changed this country forever. I am delighted that this book has been chosen for next year as part of the Ireland 2016 Centenary Programme, the moment when we as a nation will commemorate the events of 1916."

Commenting on the project, Irene Knox, Chief Executive of Libraries NI, said:"This is a great opportunity to encourage people in both cities to read and discuss the same book and the project supports one of Libraries NI's core aims of promoting reading and literature. The timeframe and the chosen book is particularly relevant considering next year's planned commemorative events for the Decade of Commemorations for World War One and for the Easter Rising, both significant historical events which form the backdrop of the novel."
Dublin City Librarian Margaret Hayes says "Dublin: One City One Book 2016 will be the eleventh year of this annual programme . Fallen is a novel which through its characters, plot and narrative tells the story of ordinary Dubliners caught up in the historic events of Easter 1916 and is a perfect choice for Dublin: One City One Book 2016. I am especially pleased that readers in Dublin and Belfast will jointly  explore this book and share their  reading experiences in a first time collaboration of 'Two Cities, One Book'."
Lia Mills said, "I'm delighted that Fallen has been chosen for the Dublin: One City One Book festival in 2016. The festival is such a positive boost – for books and for readers. I wanted this novel to explore a fresh perspective, starting with the question: what would it be like to find your city taken over by forces you don't recognise? The participation of Libraries NI adds a new and exciting dimension to the festival. I'm really looking forward to seeing what we can do."

Fallen, published by Penguin Ireland, is the third novel from Dublin author Lia Mills. Through the experiences of its central character Katie Crilly, the novel explores the challenges of day to day living in a conflict situation alongside contextual subjects such as education and votes for women.  It vividly depicts the various and conflicting allegiances faced by Irish soldiers in the First World War and those supporting the cause of the rebellion.
A full programme of events in both cities, offering opportunities to engage with Fallen in a range of contexts, will be announced in March 2016.
Since its inception in 2006, the Dublin: One City One Book Festival has encouraged everyone to read a book connected with Dublin during the month of April. The initiative is led by Dublin City Council's Public Library Service as part of Dublin's  UNESCO City of Literature designation and is supported by the Department of Arts, Heritage and the Gaeltacht.
Today's announcement follows a highly successful Dublin: One City One Book Festival in 2015. The book choice was 'The Barrytown Trilogy' by Roddy Doyle. Events booked out quickly and the books in the trilogy were among the most borrowed books from Dublin's public libraries this year.
Previous books featured in are 'At Swim Two Birds' by Flann O' Brien (2006), 'A Long Long Way' by Sebastian Barry (2007), 'Gulliver's Travels' by Jonathan Swift (2008), 'Dracula' by Bram Stoker (2009), 'A Picture of Dorian Grey' by Oscar Wilde (2010), 'Ghost Light' by Joseph O'Connor (2011),' Dubliners' by James Joyce (2012), 'Strumpet City' by James Plunkett (2013) and 'If Ever You Go: a map of Dublin in poetry and song', edited by Pat Boran and Gerard Smyth (2014).
Visit the Dublin: One City One Book website, and on Twitter; hashtag #fallen2016.